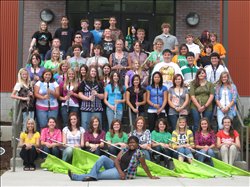 Description:
High School Band is a performance-based class designed for students in Grades 8-12, who have 3+ years of experience playing a wind or percussion instrument. High School Band members perform at all home football games, multiple marching band competitions throughout the fall, as well as various concerts in the winter and spring.

Band members must participate in Marching Band during the fall semester and concert band and basketball pep band during the spring semester.
Grades for High School Band are based on attendance at performances and participation in rehearsals. Students must come to class prepared with their instruments and music.
Assignments
View All Assignments
Announcements
Christmas Performances

Christmas Parade Information: The Harlan Christmas parade is Saturday, Dec. 5. Students should meet at the band room at 3pm. Wear jeans. Sweatshirts will be given out when you arrive. We will practice for about an hour, then have a snack break/pizza party. We will head to the Harlan Baptist church at 5pm and wait in the street behind the church for our slot in the parade. The parade starts at 5:30pm. Students should be back at the band room by 6:30pm. This is a required performance for high school band members.
Christmas Concert Information: Our annual HHS/HMS Bands Christmas concert will be held on Sunday, Dec. 13, at 2pm in the HHS Gym. Students should be at school by 1:30pm. Please wear dress clothes (no jeans or tennis shoes, if possible). The concert will last approximately one hour. This is a required performance. The concert is free and open to the public.
District Christmas program: The HISD Christmas Program will be held on Friday, Dec. 18 at 8:30am. Band students should wear jeans and green sweatshirts. This program is open to parents.
Remind.com

Join Remind.com to receive text updates and reminders of events, times, meeting places, due dates, etc. To join, text @00259 to 81010. Your phone number is never displayed for anyone to see.
2015 Competition Schedule

The HHS Band will attend the following competitions:
Sept. 19-North Laurel HS
Sept. 26-Hazard HS
Oct. 3-Corbin HS
Oct. 24-KMEA Regionals @ Madison Southern HS
Oct. 31-KMEA State Semifinals/Finals in Bowling Green
2015 Football Schedule

The HHS Band will perform at all home football games. Band members should be at the field at 6:30pm. Here is the schedule for this season:
Sept. 12-Bracken Co. (Homecoming)
Sept. 18-Jackson Co.
Oct. 2-Rye Cove, Va.
Oct. 9-Williamsburg
Oct. 30-McCreary Central (Senior Night)