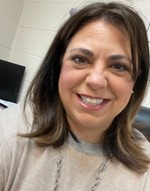 Contact Info:
Leanne.huff@harlanind.kyschools.us
LeAnne Huff is currently in year twenty six in education with twenty one years in school administration. Her career in education has been diverse as she has held positions in the elementary, middle and high school levels serving as an administrator, media specialist and classroom teacher.
Her professional preparation was completed at the University of Kentucky in 1995 where she attained a double major in high school English and Library Science. She earned Masters and Rank 1 Certificates from Union College.
She is active in the University of Kentucky Alumni Association.