(Hazard, KY) Harlan High School Sophomores Ava Nunez and Janie Tolliver had an out-of-this-world experience as they recently participated in the International Space Station STAR (Students Teaching Astro Research) program held at the Hazard Challenger Learning Center in Hazard, Kentucky. Students were joined by a host of state and region officials including former Governor Paul Patton and current Lieutenant Governor Jacqueline Coleman.
Both students along with others from across the region, including Eli Epperson and Sebastian Mosely from Harlan County, were selected to participate in a live Question and Answer downlink session with NASA astronaut Jessica Watkins. Watkins who is on a six-month mission aboard the International Space Station Expedition 67 fielded questions for nearly an hour from Eastern Kentucky students
For more than 21 years, astronauts have continuously lived and worked aboard the space station, testing technologies, performing science, and developing the skills needed to explore farther from Earth. Astronauts living in space on the orbiting laboratory communicate with NASA's Mission Control Center in Houston 24 hours a day through the Near Space Network Tracking and Data Relay Satellites (TDRS).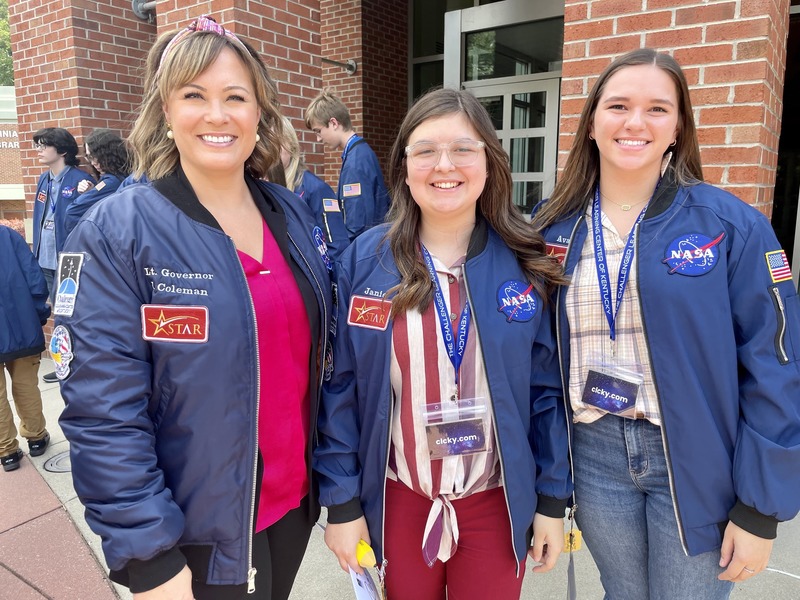 (Pictured: Lieutenant Governor Jacqueline Coleman, Janie Tolliver, Ava Nunez)
Tom Cravens, Challenger Learning Center Director noted the Challenger Learning Center of Kentucky has provided STEM education to students in southeastern Kentucky for 23 years.
Both Ava and Janie were awarded commemorative NASA jackets to recognize their contribution and participation in the STAR program. Nunez commented that participation in the program is something she won't soon forget. "Having the chance to interact with an astronaut while they are orbiting the globe hundreds of miles above the earth is pretty amazing. There are so many things that have to be just right to ensure a successful mission, the teamwork is amazing."
Tolliver stated "This was a great experience and it really opened my eyes to all of the careers that are possible in this field. NASA offers so many opportunities for students and internships including areas outside of Math and Science. This has been an inspirational program."
Ava is the daughter of Dr. Matt and Brandee Nunez of Harlan, KY and Janie is the daughter of Jimmy and Patricia Thomas, of Wallins.
Curriculum Supervisor Jennifer Parsons who also attended Monday's event stated, "The Challenger Learning Center provides students in our region a highly engaged, first-class learning environment. We are so fortunate, not only for the opportunity for Ava and Janie, but to also send our 6th and 7th-grade students each year to participate in simulated space missions."
NASA's next big mission is tabbed ARTEMIS which will send astronauts to the Moon, to prepare for future human exploration of Mars. Inspiring the next generation of explorers – the Artemis Generation – ensures America will continue to lead in space exploration and discovery.
#Morethanaschool #FamilyofDragons #ExcellenceinEducation