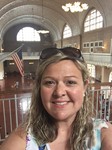 Contact Info:
Harlan High School
420 E. Central Street
Harlan, KY 40831

Phone: 606-573-8750 ext. 4107

Email: megan.freyer@harlanind.kyschools.us
To access your child's Google Classroom, contact Mrs. Freyer to get the class code.


"To me history ought to be a source of pleasure. It isn't just part of our civic responsibility. To me it's an enlargement of the experience of being alive, just the way literature or art or music is."
- David McCullough


The words of David McCullough, one of my favorite authors, expresses my love of history and the social sciences. This year I will be teaching your child about the world, its people and our histories. I teach history because I love the subject and I love teaching. I look forward to a great school year!