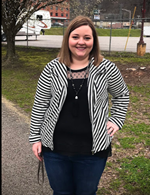 Contact Info:
Room # 106
Email: rebecca.wynn@harlanind.kyschools.us
Phone: 606-573-8750 Ext. 4114
Schedule
Monday/Wednesday/Friday
1st Block - English 3
2nd Block - AP English Literature & Composition
3rd Block - Planning
4th Block - AP English Language & Composition
Tuesday/Thursday/Friday
1st Block - English 1
2nd Block - Planning
3rd Block - English 1
4th Block - English 1
*The schedule for Friday will rotate according to the hybrid schedule
Miss Wynn holds a Bachelor's degree in Secondary Education and a Master's degree in Educational Leadership, both from Lindsey Wilson College. She is a National Boards Certified Teacher in English Language Arts-Adolescence and Young Adulthood. She is a tutor for the 21st Century program in partnership with the Cawood Ledford Boys and Girls Club, and the assistant coach for the HHS Academic Team.
For the 2020/2021 school year, we have moved to Google Classroom. For the classroom code, please contact Miss Wynn.