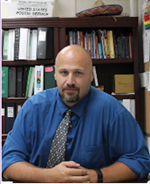 Contact Info:
606-573-8700 option 4
britt.lawson@harlanind.kyschools.us
Mr. Britt Lawson is in his 8th year as principal at Harlan High School. Prior to joining the Dragon family, Mr. Lawson served as principal at Stinnett Elementary in Leslie County for 8 years. He is in his 23rd year in Education.
Along with being Principal, Mr. Lawson is also the Pastor at Putney Bible Church and a father of 6. He enjoys being with his family and spending time at the lake.