Just a quick reminder that the Harlan Independent Schools will be on in session following our regular schedule tomorrow, Monday, February 20th (Presidents Day). It is also the start of Championship Week and the Harlan High Lady Dragons will be traveling to Middlesboro to take on the Harlan County Black Bears in the opening round of the 52nd District Tournament. Tipoff is scheduled for 7:30 and we hope to see Big Green Nation supporting our Lady Dragons 🏀🐉! #FamilyofDragons #MoreThanASchool.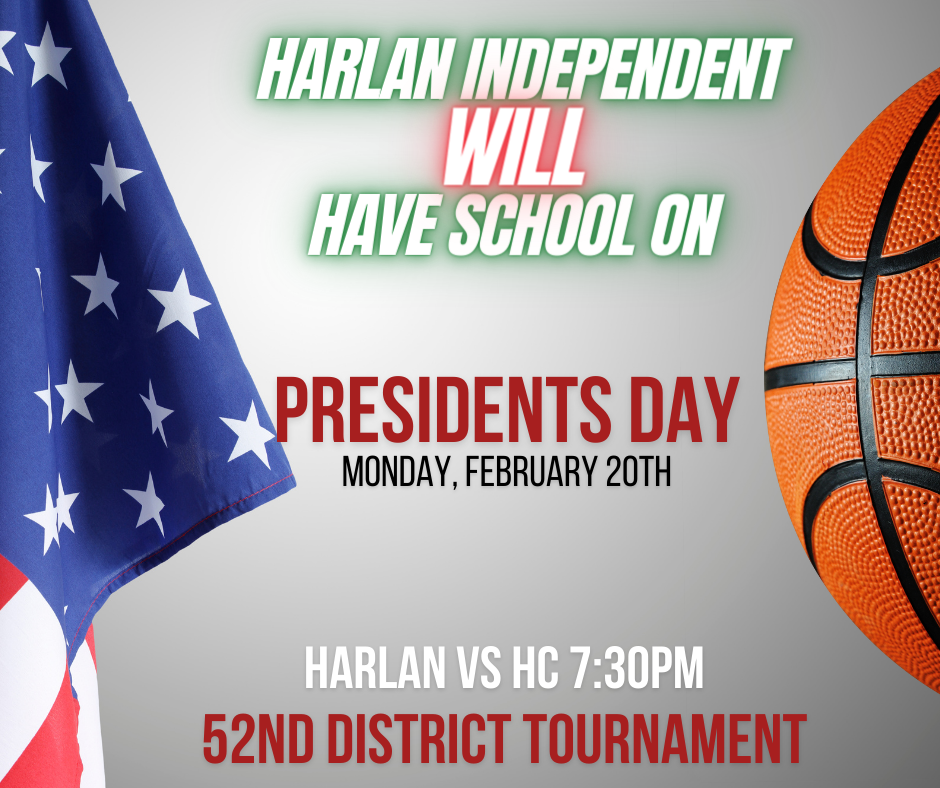 Congrats to HISD Board Member Mr. Will Miller on achieving Level III certification in the KSBA's Academy of Studies.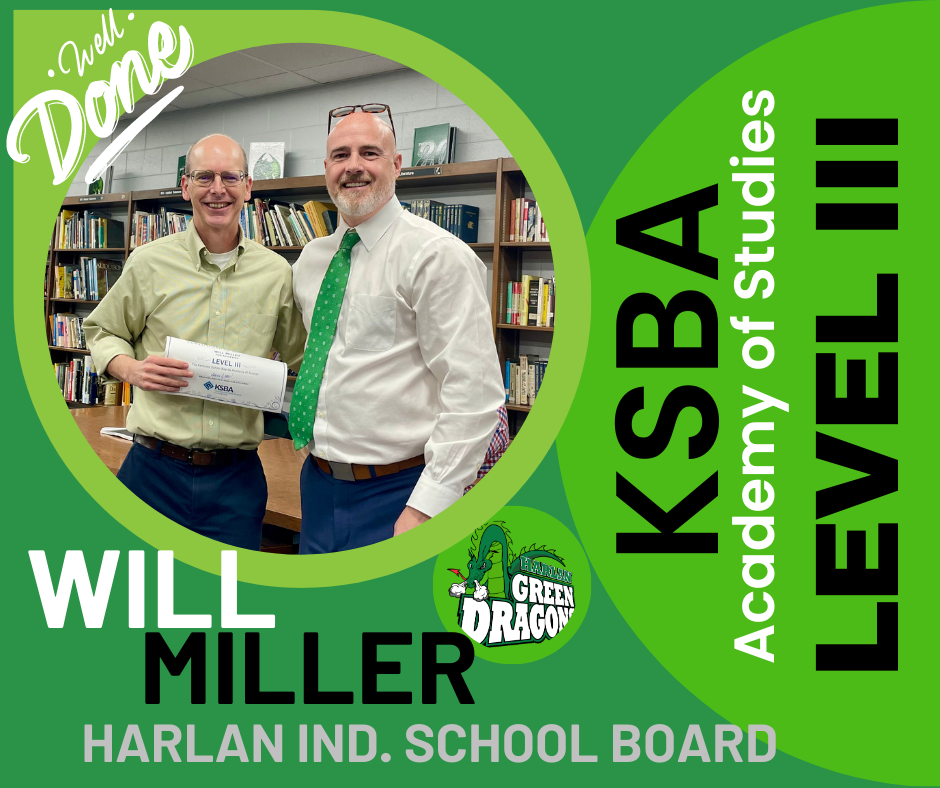 Congratulations to Head Coach Derrick Akal on his selection as the 13th Region Boys Basketball Coach of The Year! Coach Akal will be honored at the 2023 KY Boys High School Sweet Sixteen held at Rupp Arena in March. After nearly a decade of missing out on the 13th Region Tournament, under the leadership of Akal the Dragons are looking to make their sixth consecutive trip in as many years. He led the Dragons to a 52nd District title over the Black Bears in 2021 and has won five (5) All-A 13th Region Titles. Harlan has spent the majority of the season sitting among the top of 13th Region teams while reeling off nine consecutive wins twice throughout the season. Harlan will look for win number 24 on Tuesday night at 7:30 when they take on the Bobcats from Bell County in opening round action of the 52nd District Tournament.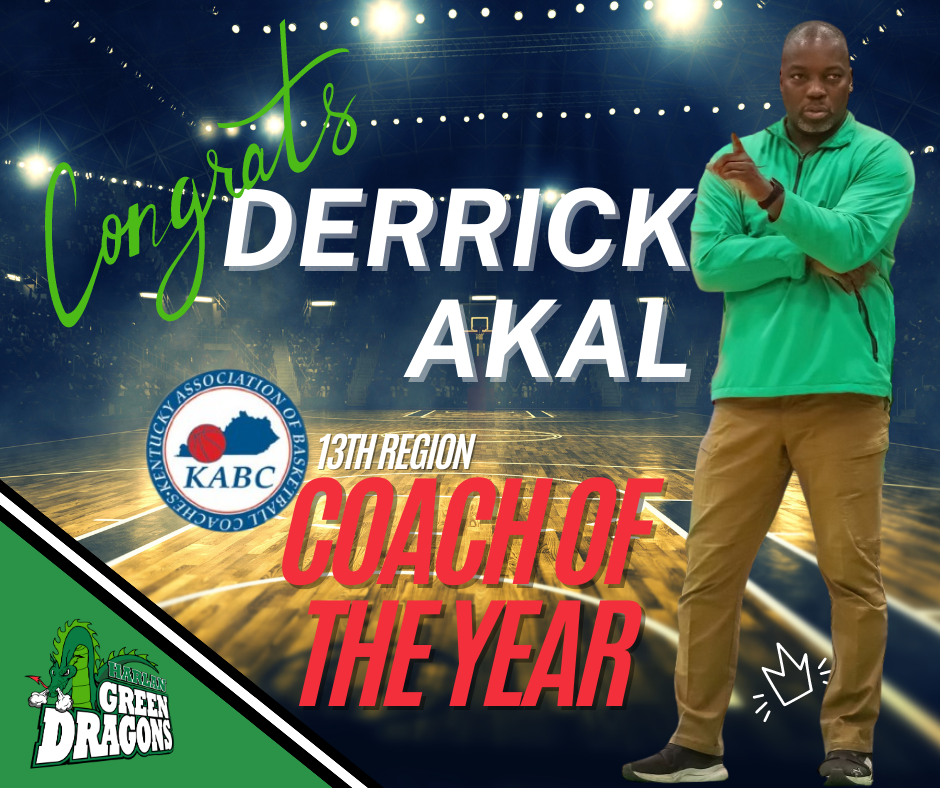 Just a quick reminder that the Harlan Independent Schools will be in regular session on Monday, February 20th.

Congrats to Harlan Elementary! Won their sixth (6) consecutive KY Governor's Cup District Title! Going for sixth consecutive Regional Title! #MoreThanASchool #FamilyofDragons #ExcellingWhereItMattersMost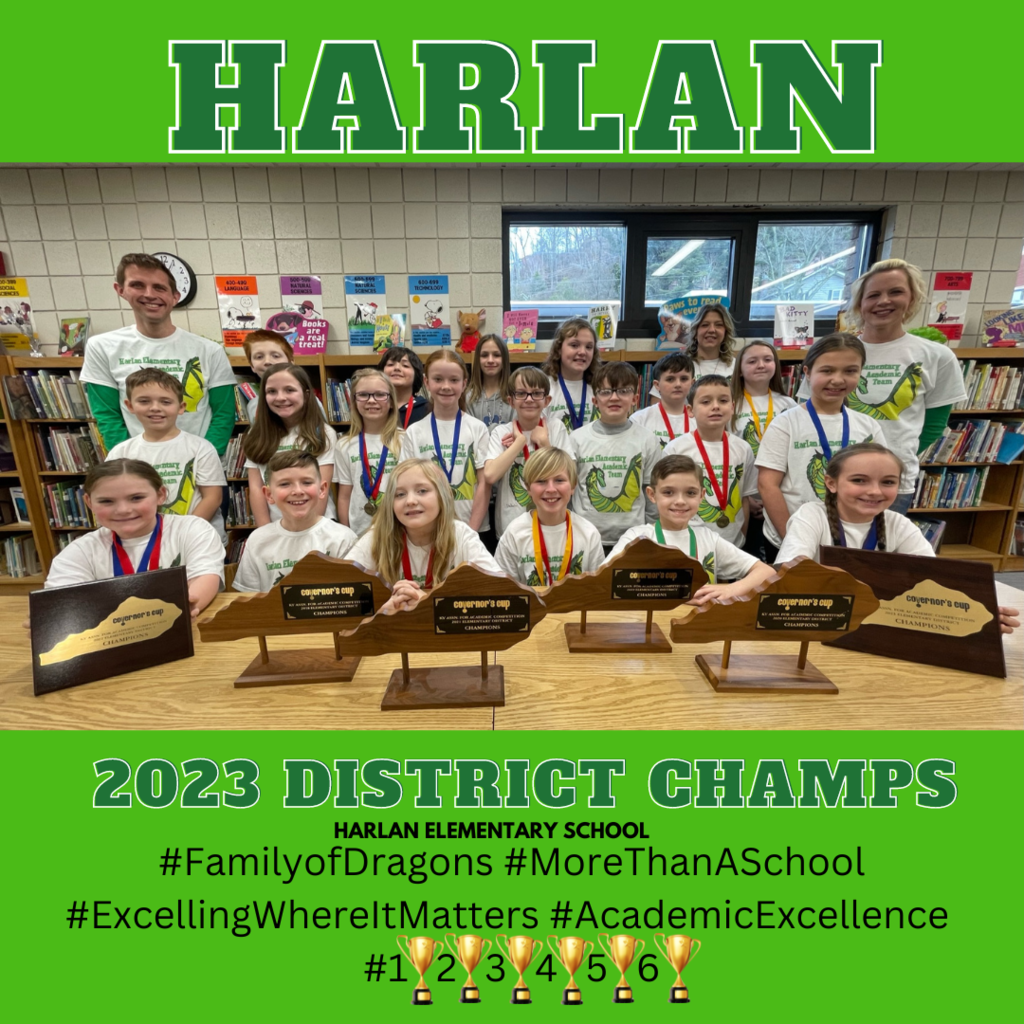 It is National School Resource Officer Appreciation Day and Harlan Independent is thankful to have the very best!! A big shoutout to Chief Derrick Akal for his service to our schools and community! @KCSSnews #NationalSchoolResourceOfficerAppreciationDay #NationalSchoolResourceOfficerAppreciationDay2023 #SROsAreValuable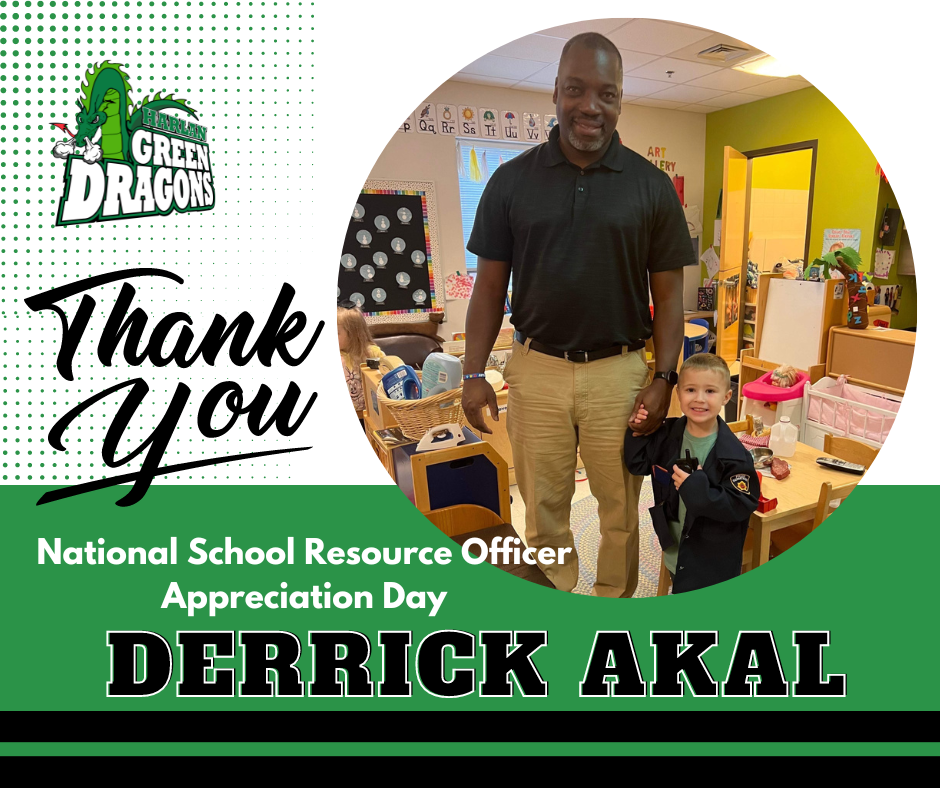 The KY Governor's Cup Academic Team Championships just keep piling up for the Harlan Ind. School District! 📚🐉🏆🏆 HMS BACK-TO-BACK REGION CHAMPS! The Harlan Middle School Academic Team will advance to STATE competition in Louisville, KY on March 17-20th. #FamilyofDragons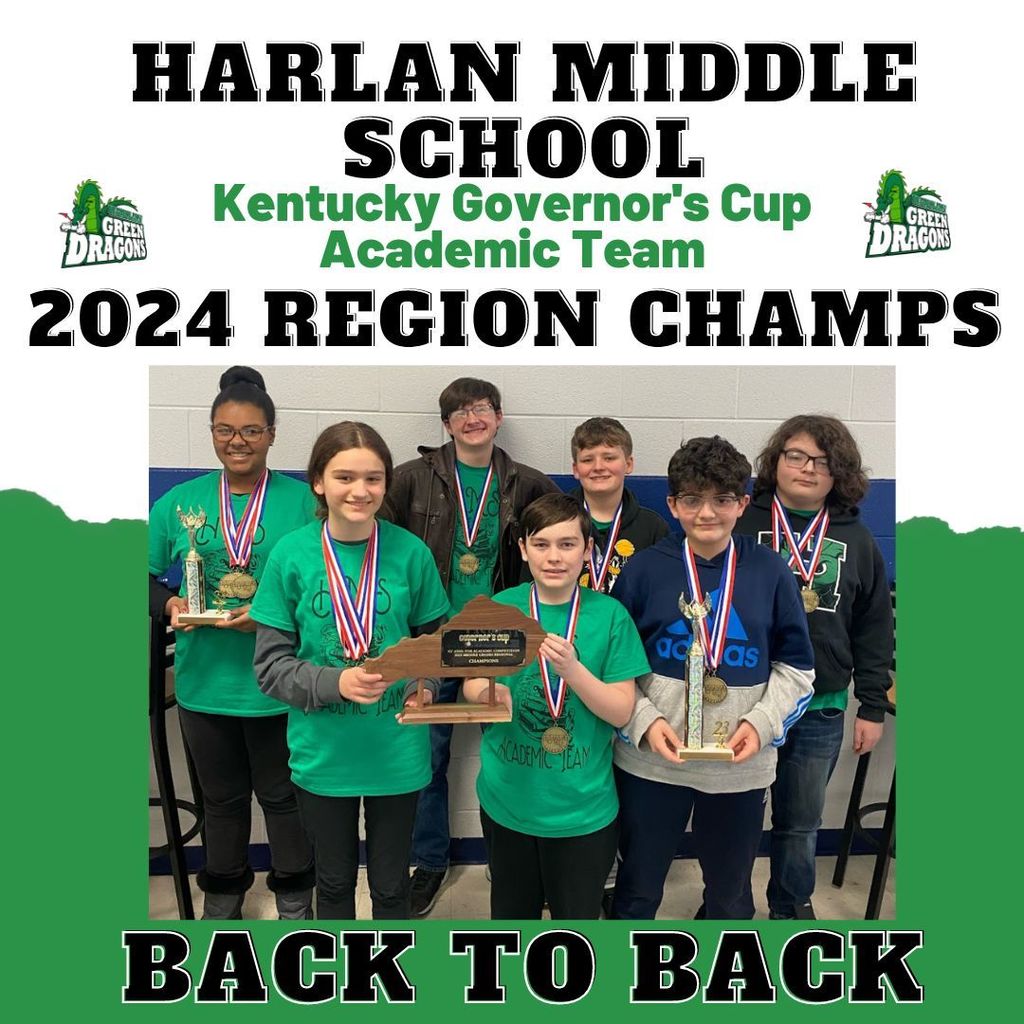 Spread The Word!!! We have an immediate opening for two (2) Full-Time Instructional Aide positions. Please contact the Harlan Independent Board of Education for information or an application. You may also go to
https://bit.ly/JobsatHISD
Minimum $10 per hour with a full benefits package that includes sick leave, health insurance, and retirement. Call 606-573-8700 option 6 for more information. Scan the QR code on the image to access the District Employment webpage.

Congratulations to Harlan Middle School Choir members! Members who qualified by audition were selected to participate in the SSAA and SATB Choirs being held in Louisville, Kentucky. Members representing Harlan Middle School are Ella Cook, Daria Lee, Arianna Raleigh, Michael Lindsey, and Landon Traylor. We wish them the very best in their performances! #MoreThanASchool #FamilyofDrgons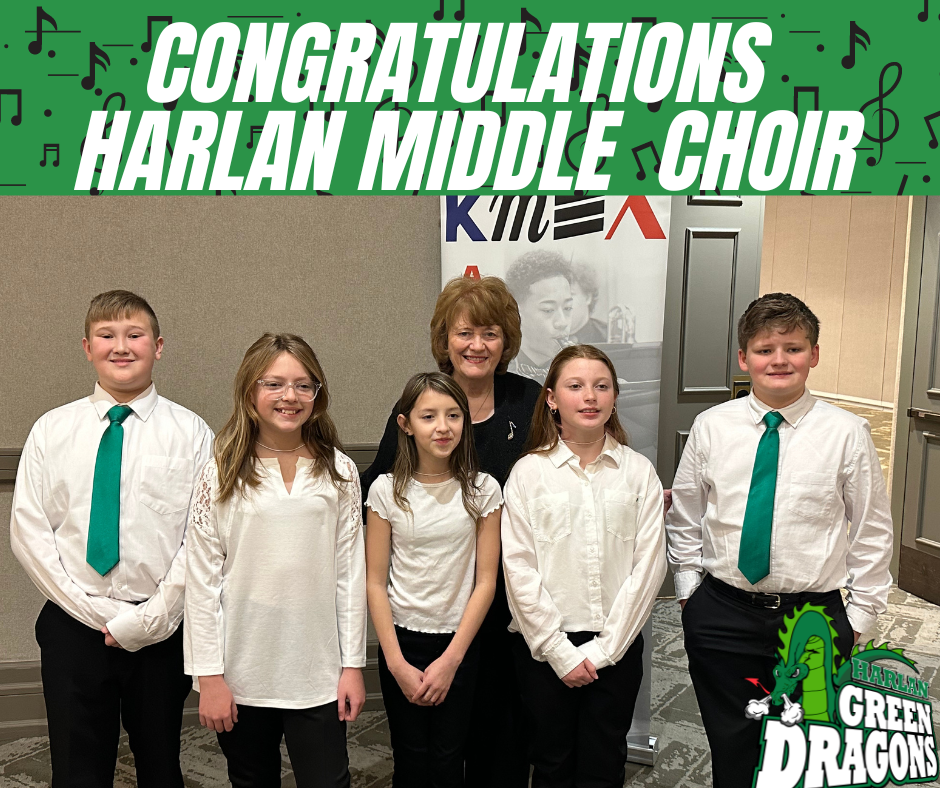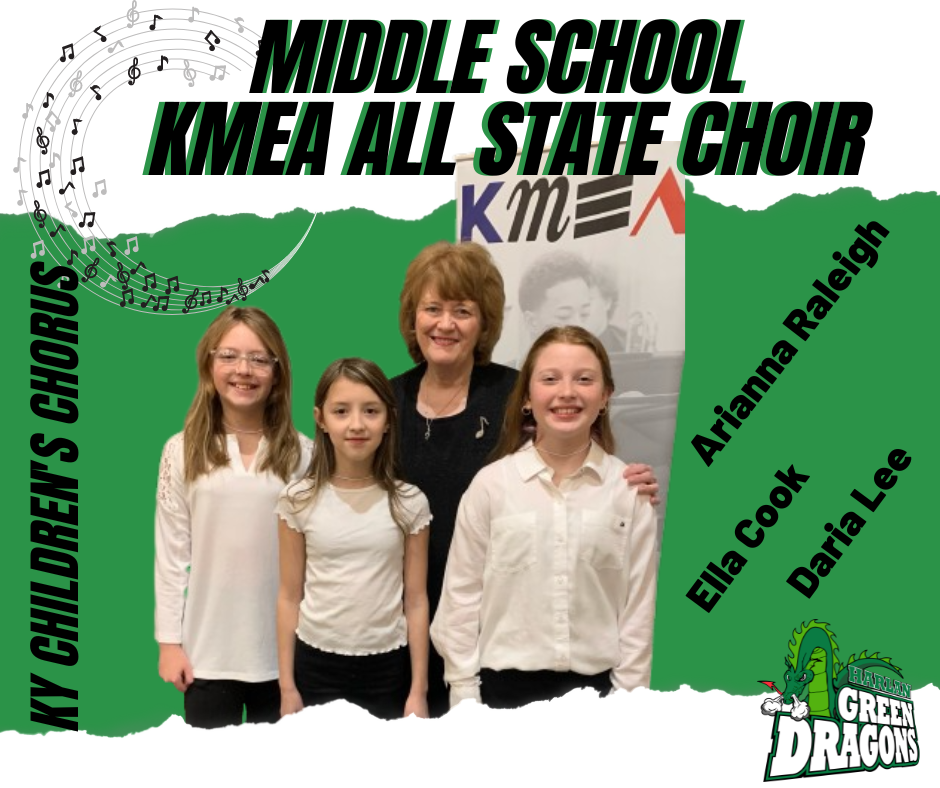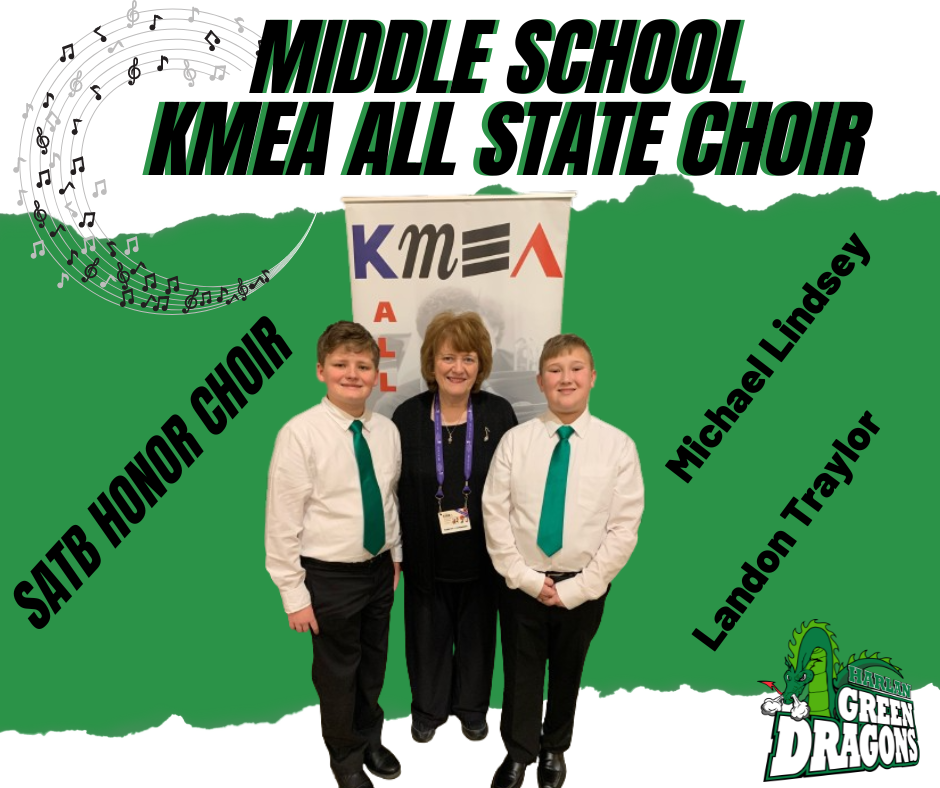 The Harlan Independent School District will observe NTI/Dragon Day #4 on Thursday, February 2nd, 2023.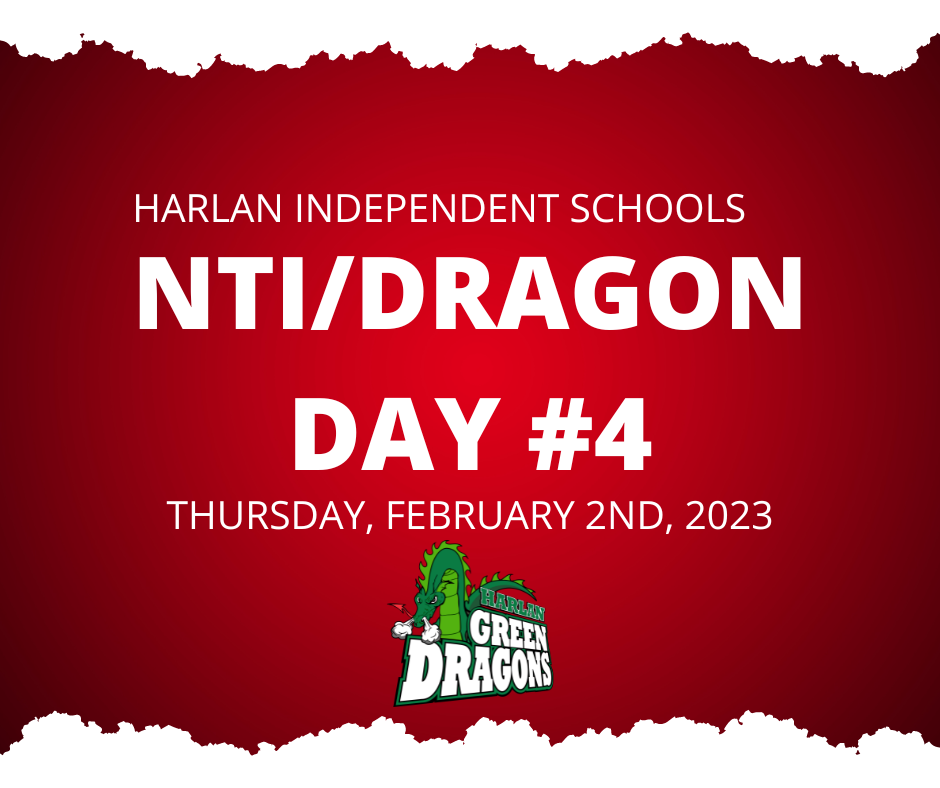 Harlan vs HC Wallace 'Wah Wah' Jones Gymnasium @ HHS Thursday, February 2 52nd District Doubleheader Girls at 6:00 / Boys at 7:30 #FamilyofDragons #MoreThanASchool #ExcellenceInEducation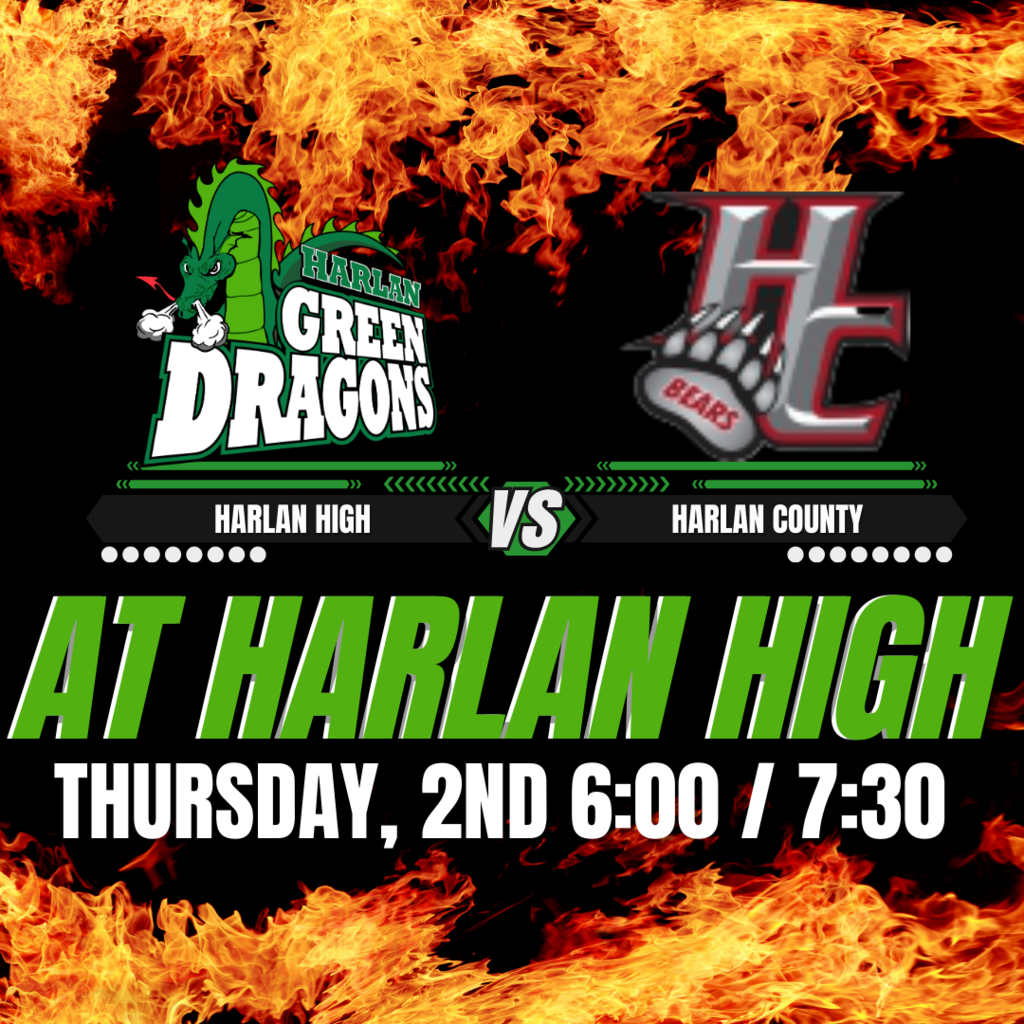 The Harlan High School Cheerleaders are coming home with some championship hardware after competing in the All A Classic State Tournament. The HHS Cheerleaders were crowned the 2023 Boys All A Classic In-Game State Champions on Friday morning at EKU. Congratulations to the HHS Cheerleaders!!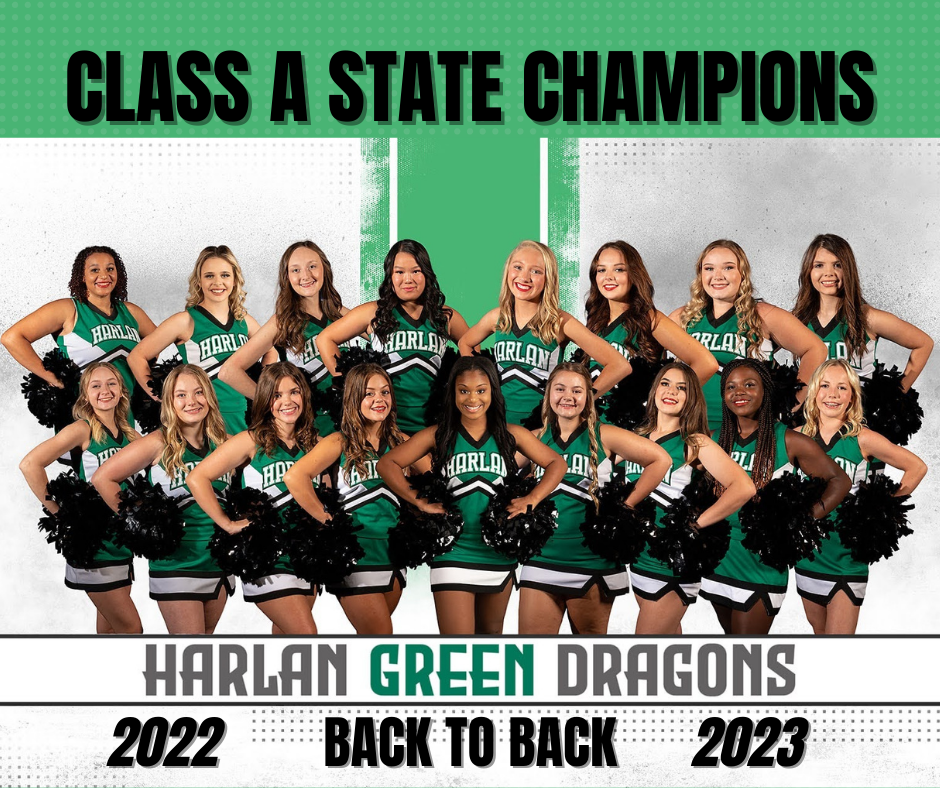 Harlan High runs streak to five consecutive District Academic Team Championships. #23 in the last 26 years. Congrats to these exceptional students and coaches!! On to Regional competition February 18th for a Regional Title. #MoreThanASchool #FamilyofDrgons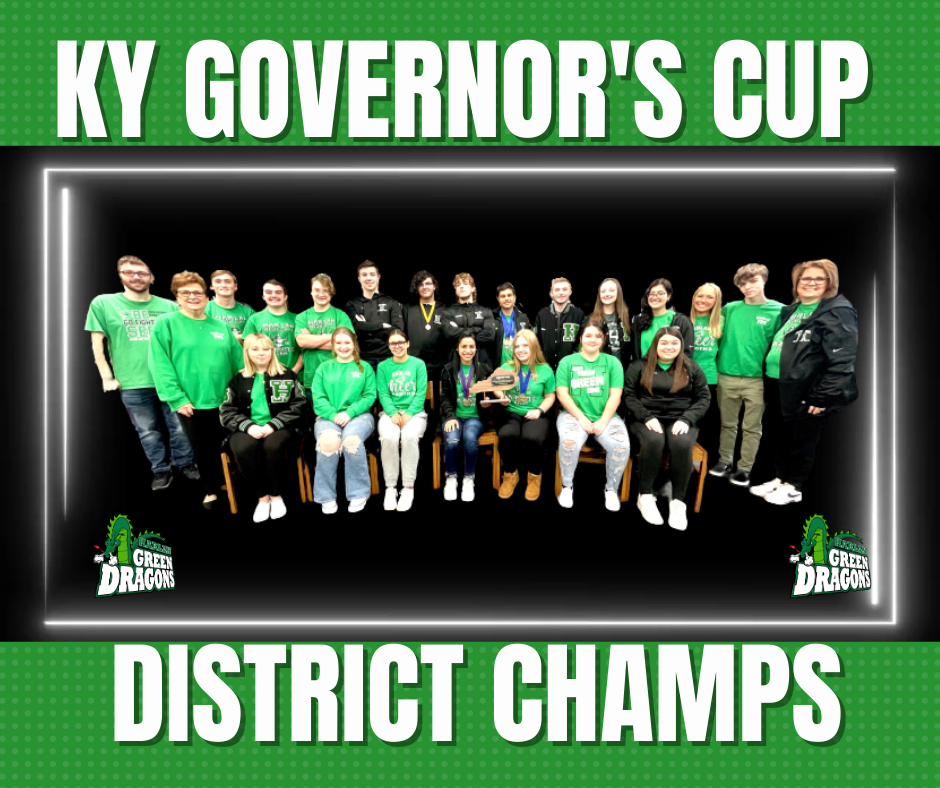 HHS Academic Team continues District Domination! Winning their 5th in a row and #23 in the last 25 years, Harlan students had an excellent showing in today's District competition. Check out our Facebook page for a complete write up soon. #MoreThan A School #Winning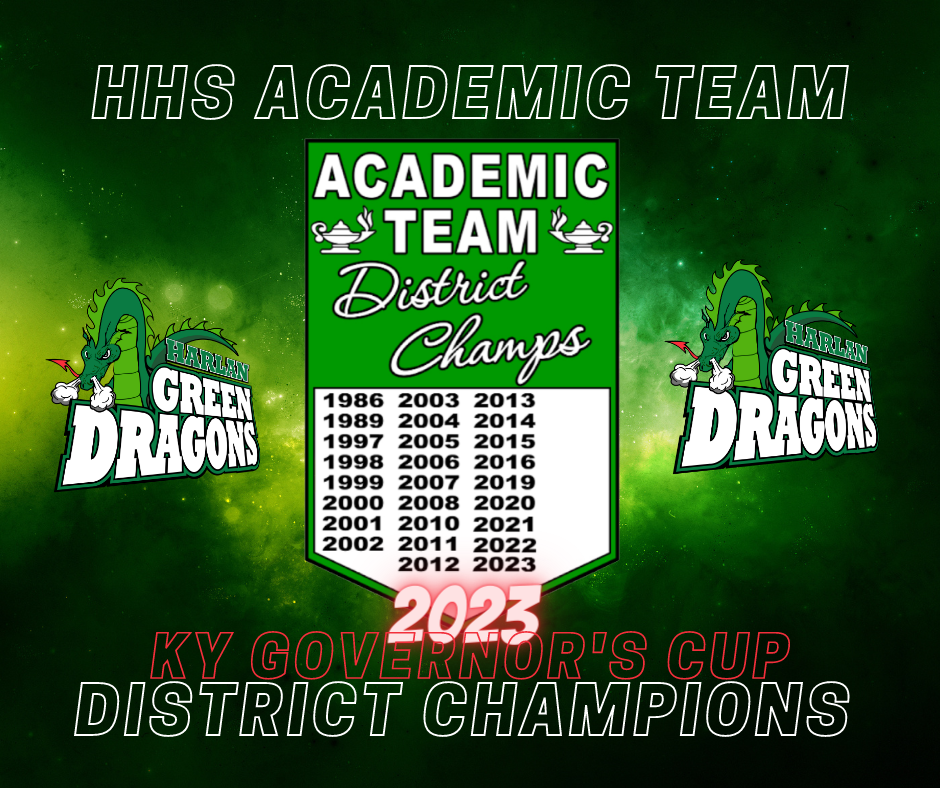 Don't miss the most exciting basketball action in town. The Green Dragons will take on the Middlesboro tonight in district play at HHS. Lady Dragons 6:00PM /Green Dragons 7:30PM. Bring that Dragon Pride to the Wallace 'Wah Wah' Jones Gym & support your Harlan Green Dragons.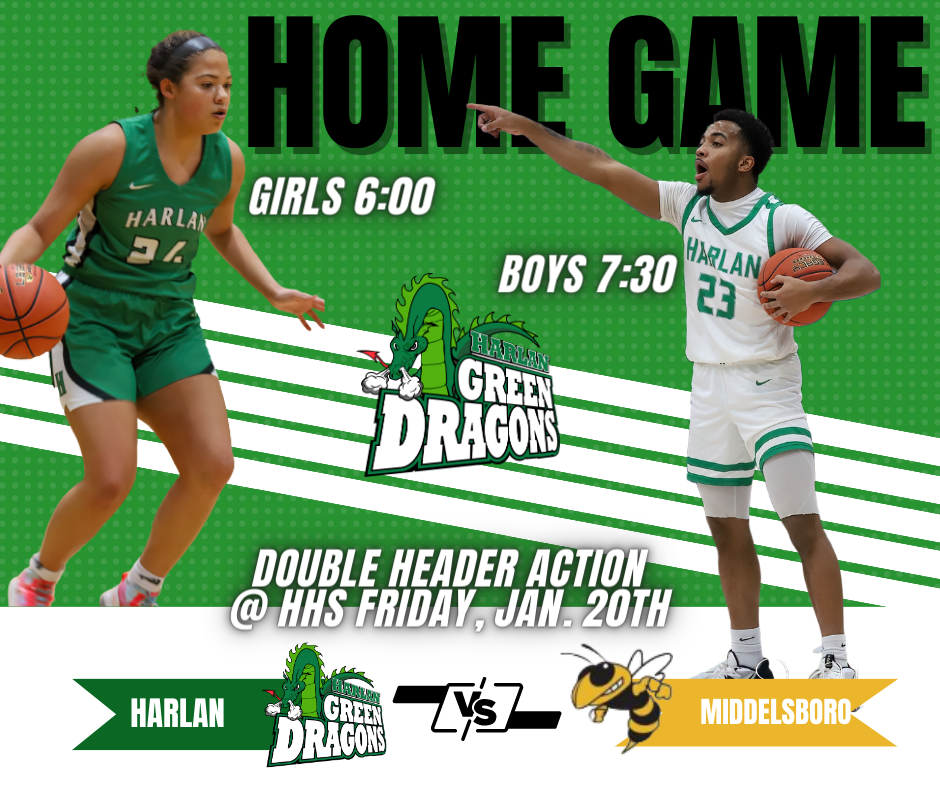 HMS wins its fourth consecutive (17th in the last 21 years) District Ky. Governor's Cup Academic Team competition. Hosted by Wallins, Harlan downs Rosspoint, JACES, Wallins, and Green Hills while capturing 1st place in FPS, Quick Recall, and Overall Champ.

The #1 team in the 13th Region will be in action tonight at the Wallace 'Wah Wah' Jones gymnasium at 7:30PM. In a district matchup with cross-county rival Bell County, Harlan will look to avenge a late-season loss from last year. Don't miss the action!! See you at HHS!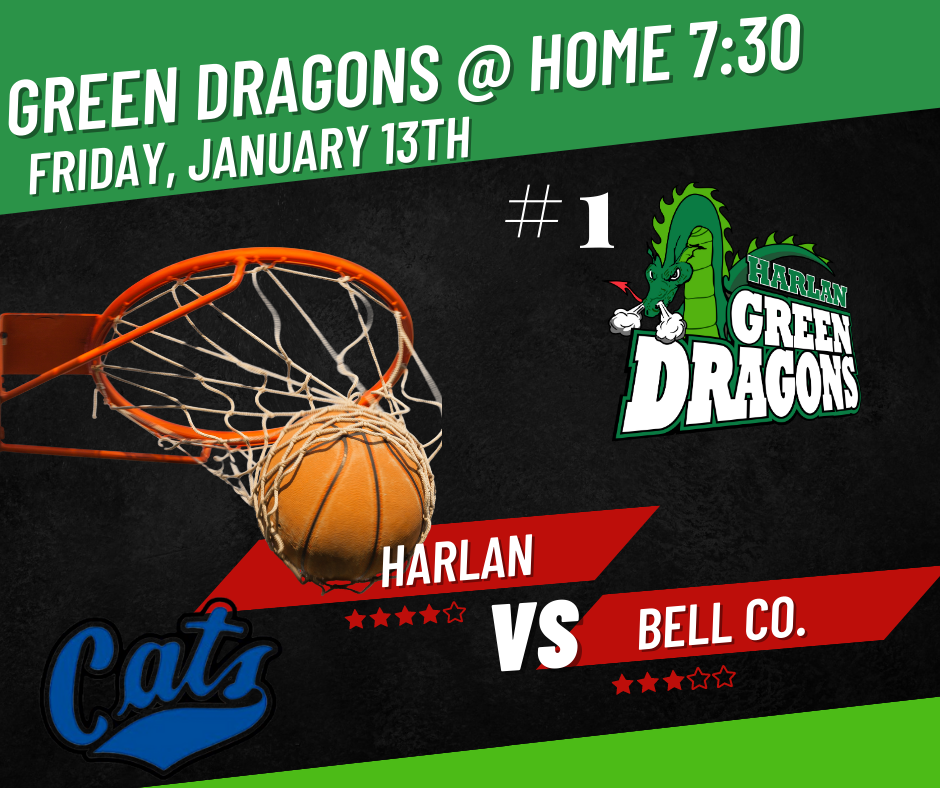 🏀 Celebrate the Harlan Green Dragons All "A" Championship win with a t-shirt! They will be on sale in the HHS office until January 17th. S-XL - $12 XXL - $15 Prepay only. #gobiggreen🐉 #AllAChamps🏆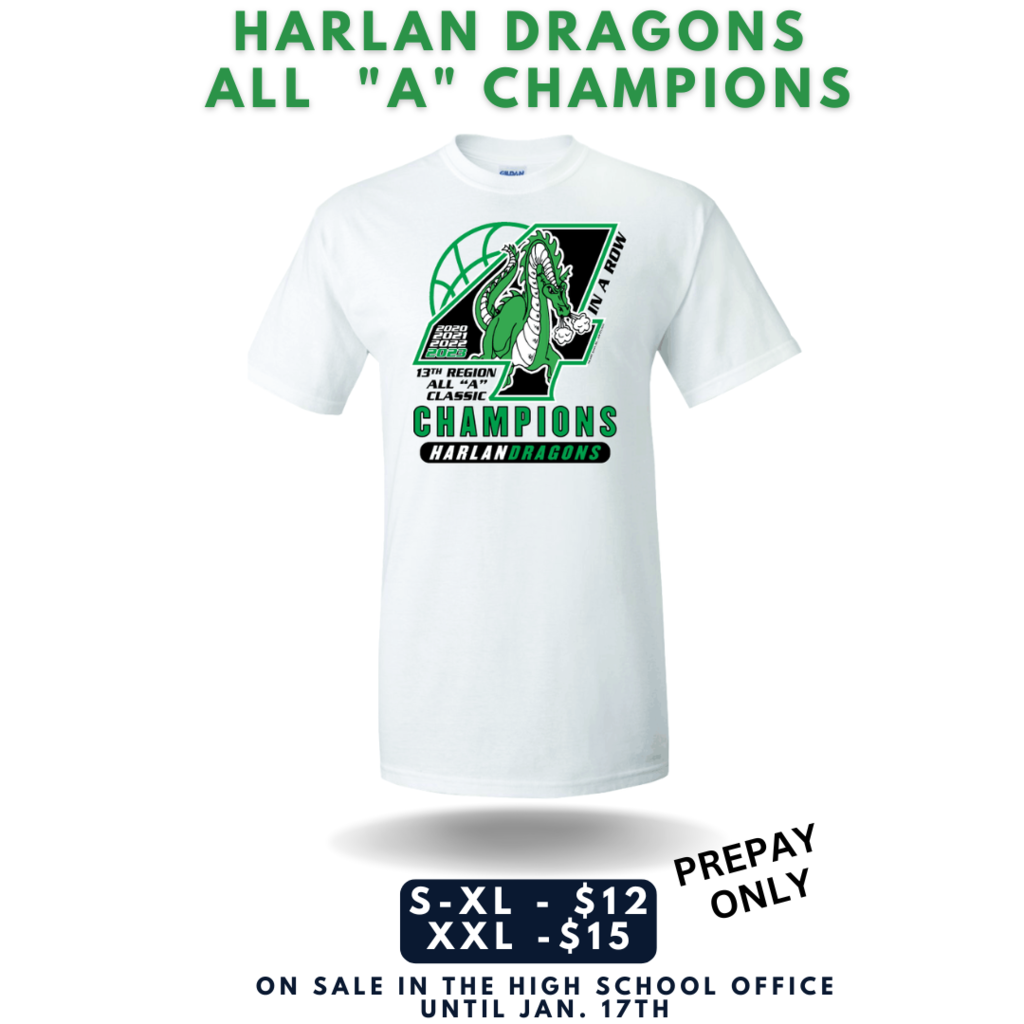 The Harlan Green Dragons will be making a familiar trip up Interstate 75 to compete for the Class A State Title after knocking off Jackson County, 78-46, in regional action Tuesday night. The Green Dragons cruised passed the Generals in the Championship game of the 13th Region All-A Classic Tournament at Barbourville. Improving to 15-2 on the season, the #1 ranked team in the 13th Region will be making their fourth consecutive trip to Eastern Kentucky University in hopes of bringing home the school's third Class A State title. The win is Harlan's 13th Regional Class A Championship. The Green Dragons are off to arguably the best start in the last three decades as Head Coach Derrick Akal has his squad executing at a high level. Akal is no stranger to the State Tournament atmosphere, having had great success guiding both the Lady Dragons and the Green Dragons to a combined 10 Regional Class A Championship appearance. Under his leadership, the Lady Dragons won six regional titles culminating in a runner-up trophy in 2017 (Akal served as both Boys' and Girls' coach in 2017). During the 2022 campaign, Akal guided the Green Dragons to a semi-final finish where the Dragons lost in overtime to Breathitt County. Junior Kyler McClendon continued his dominating run averaging nearly 25 points per game throughout the tournament on his way to MVP honors. Eighth grader Trenton Cole heated up in the final game and knocked down five 3-pointers on his way to a 17 point performance and earned the Most Outstanding Player of the Game award. Will Austin, Kaleb McLendon, Jaedyn Gist, and Trenton Cole joined Kyler Mclendon on the All Tournament Team. Harlan will take on the winner of Region 15 on Thursday, January 26th at 10:00 AM at Alumni Coliseum on the campus of Eastern Kentucky University. In order to allow the "Family of Dragons" to support the Dragons there will be no school at Harlan Independent on Thursday, January 26th , 2023. If the Dragons advance on Thursday there will also be no school on Friday, January 27th. Should the Dragon fall on Thursday, classes will resume on Friday. Tickets of the game may be purchases in advance using following link:
https://gofan.co/app/events/841935?schoolId=KY87384
. PrePspin has exclusive broadcast/streaming rights for the All A Classic Tournament. Radio coverage will be available on both WTUK 105.1 and WHLN 1410.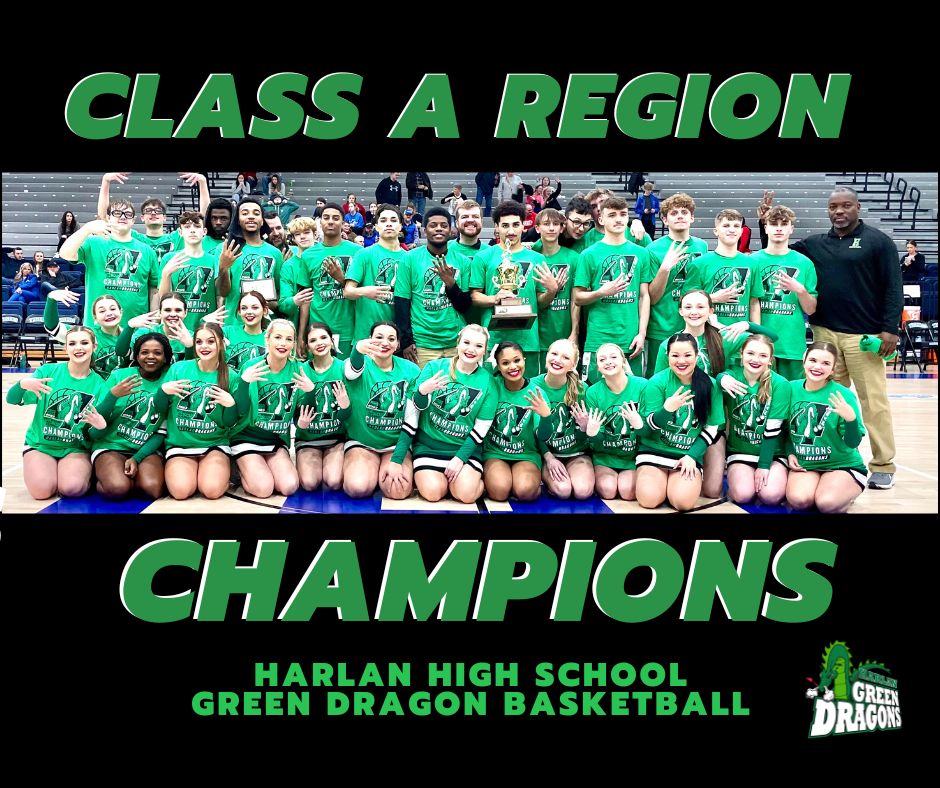 🏀 🐉 It's All "A" CHAMPIONSHIP GAMEDAY! Tonight our Harlan Lady Dragons compete with the Jackson County Lady Generals for the 13th Region All " A" championship title. Tip-off is set for 7:00 pm. Wear your green and white and come out and cheer our Lady Dragons to victory! #gobiggreen 🔥Firepit: Tonight's theme is a White Out. 🤍