Congrats to the Green Dragons Boys' Basketball team! They soared past Knox Central 95-48 to push their record to 12-2 on the season. Harlan will defend their 13th Region All A championship on Sat., January 7th versus Lynn Camp at 4:00 PM at Barbourville. #FamilyofDragons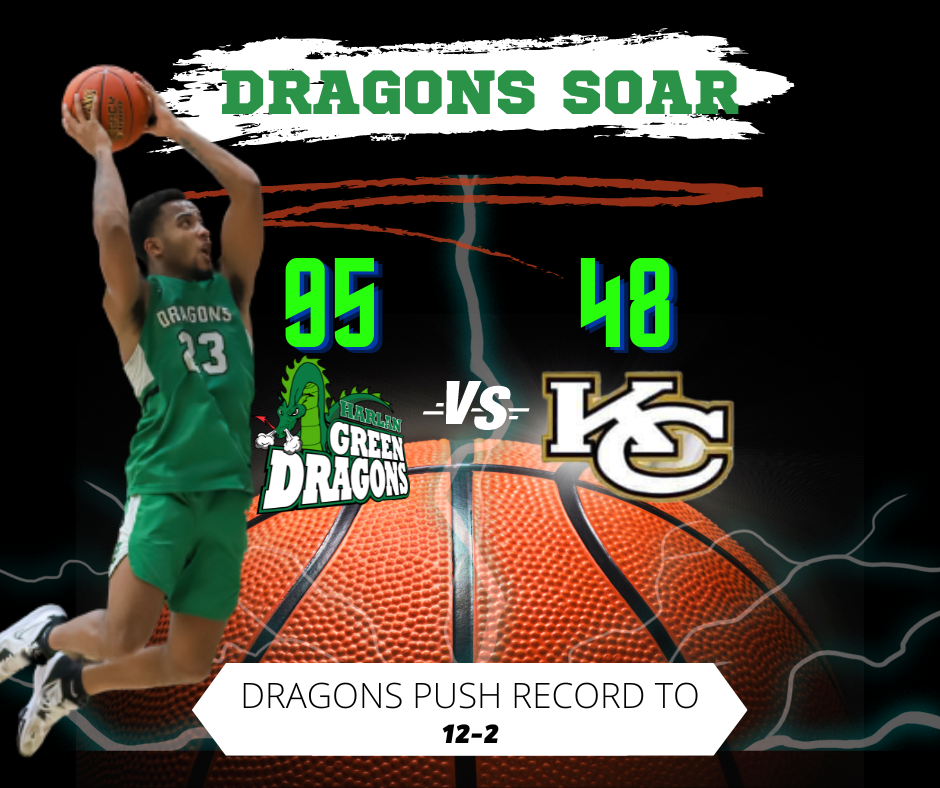 Consistent attendance at school is a major factor in the success of all students. The Harlan Ind. School District has a goal of 95% for the 2022-2023 school year. Today, we took a big step in the right direction with a 94% attendance rate across the district. Great Job!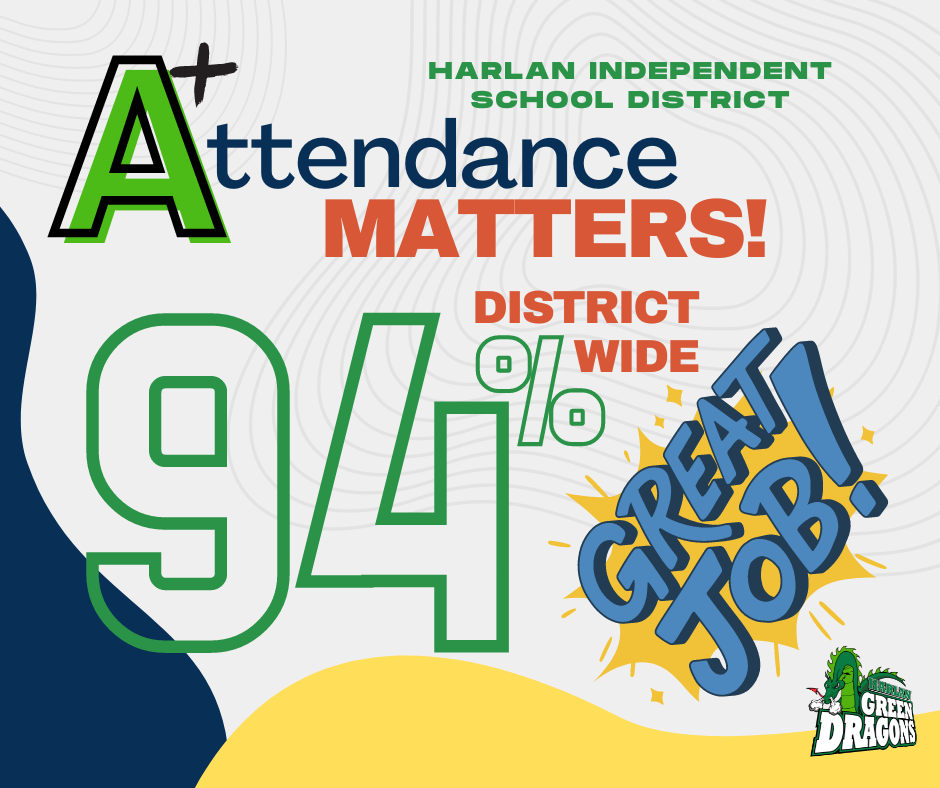 Funeral services for Mr. David Davies will be streamed on the Harlan Ind. Schools YouTube channel @
https://bit.ly/HarlanYouTube
. Visitation is from 11-2 and the funeral begins @ 2:00PM at the Harlan Baptist Church. Schools will begin dismissal at 11:30 AM today.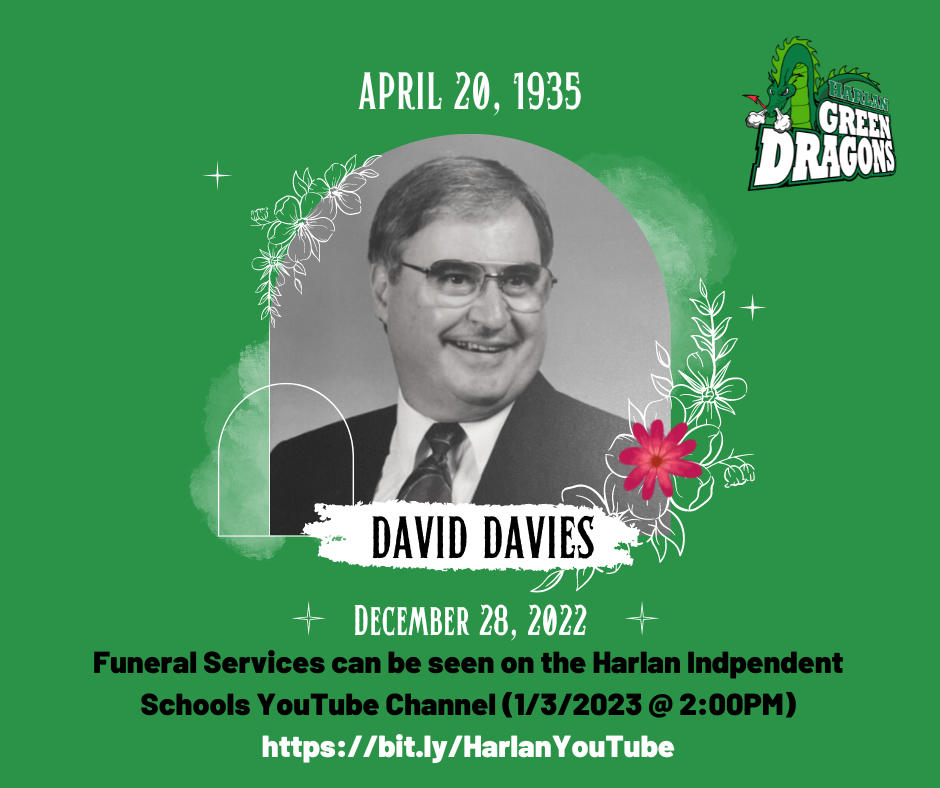 In an effort to allow our students, staff and school community to attend the funeral services for longtime Harlan Independent Schools educator, the Harlan Independent Schools will dismiss early on Tuesday, January 3rd. Visitation will be held at Harlan Baptist Church from 11:00AM -2:00PM with the funeral services beginning at 2:00PM. There will be no preschool PM classes on Tuesday, January 3rd. Harlan Elementary will dismiss at 11:30 and Harlan Middle/High will dismiss at 12:00PM. There will be no 21st Century After School programming on Tuesday, January 3rd, 2023. If you have any questions, please feel free to contact the school. The full obituary for Mr. Davis is can be found her:
https://www.aljfh.com/obituary/David-Davies

Happy New Year from the Harlan Independent Schools! All Harlan Independent Schools students will return on Monday, January 2nd, 2023. #familyofdragons #morethanaschool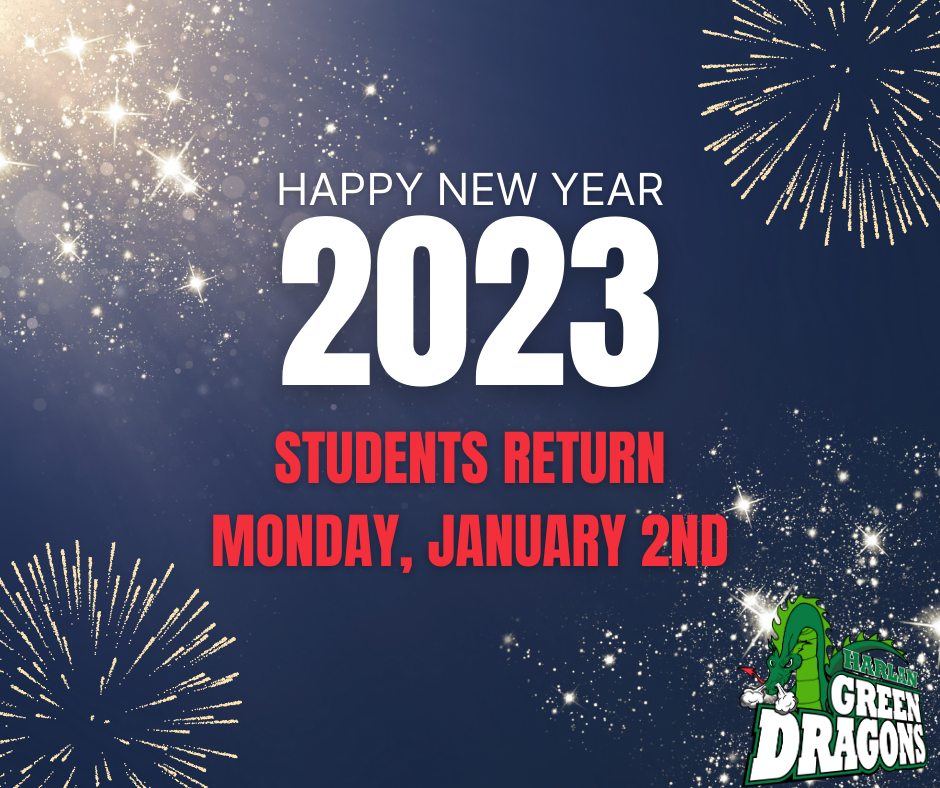 The KSR #14 Harlan Green Dragons move to 10-1 on the season with an 82-43 win over Bishop Brossart. Eighth-grade Trenton Cole scores 30 while knocking down a tournament record 10 3-point field goals. Harlan will play KSR #20 Frederick Douglass Thursday night at 6:00PM.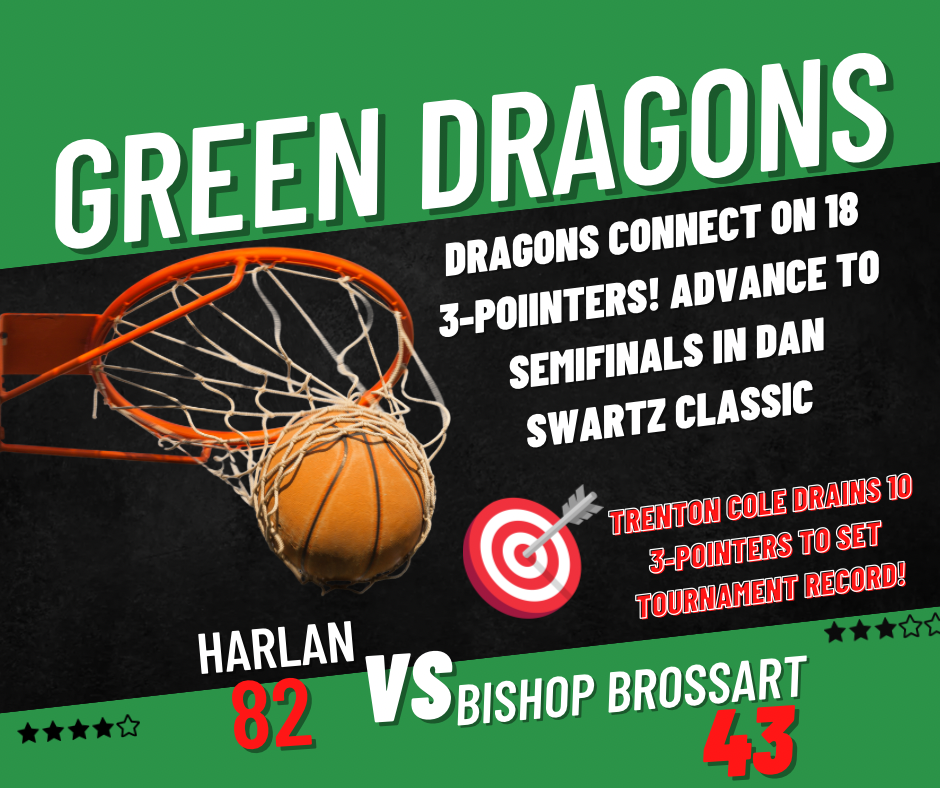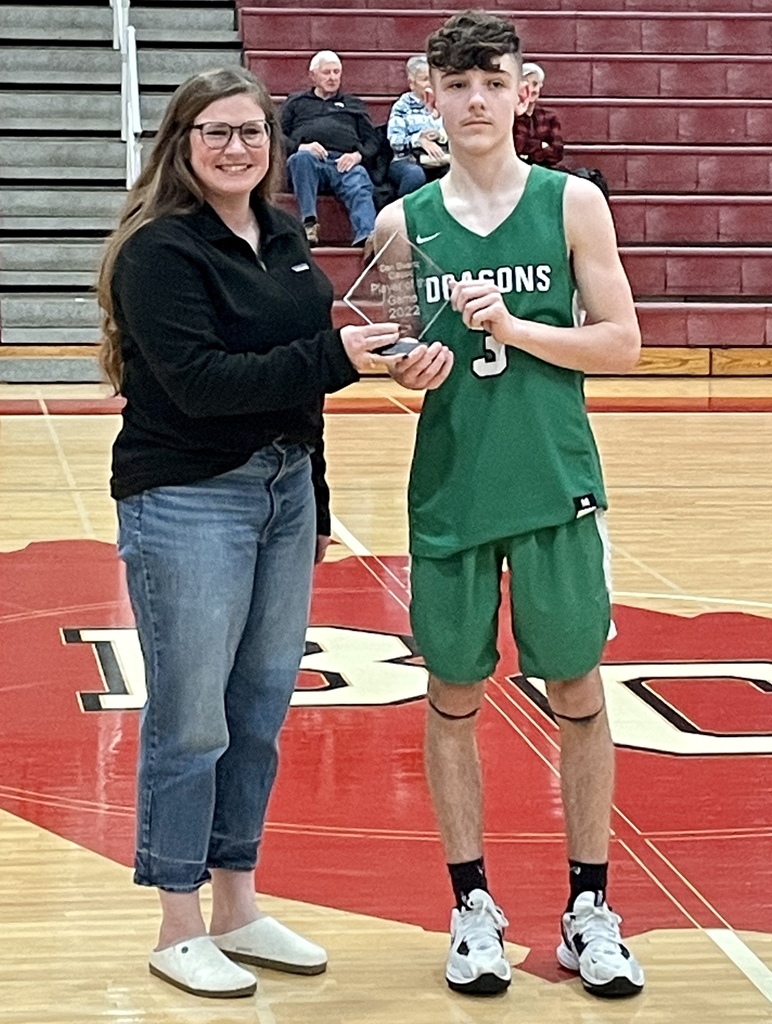 Just a quick reminder that all Harlan Independent students return to school on Monday, January 2nd, 2023. This is a change from the previously published calendar. Click here for the up to date calendar :
https://5il.co/1gk8i
#FamilyofDragons #MoreThanASchool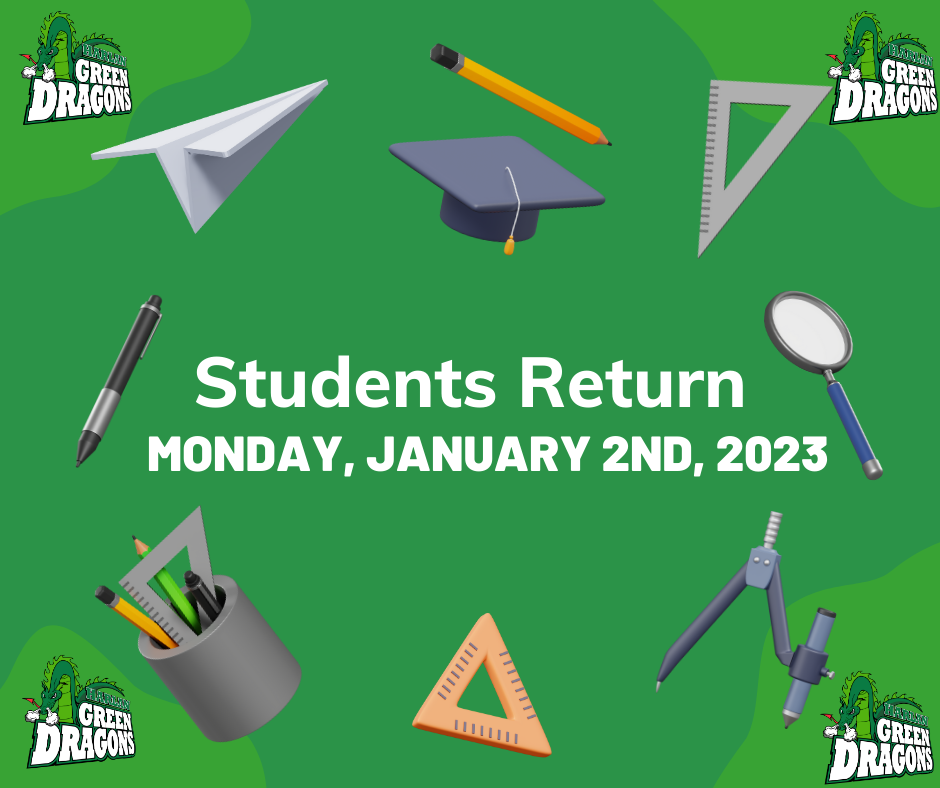 Merry Christmas to our Family of Dragons from the Harlan Independent School District.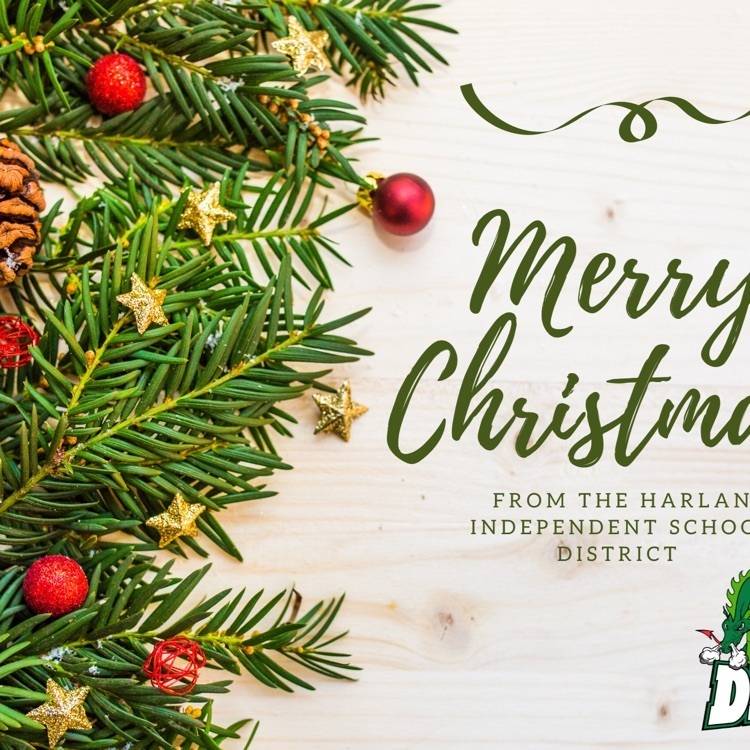 The Christmas Gift Card distribution is going great! We will continue distribution this afternoon from 1:00-3:00PM at Harlan Elementary School. Instead of just 4th-grade students, we will now open it up to anyone in Kindergarten through 4th grade to pick up their gift card at Harlan Elementary School. For those that cannot make it today, you may stop by Sunshine Preschool on Tuesday, December 20th from 8:30-3:30PM. Additionally, you may also stop by Harlan Elementary School next week (Tuesday 27th, Wednesday 28th, or Thursday 29th) from 8:30-3:30PM to pick up your card. If you have any questions call 606-573-8700 for assistance. #morethanaschool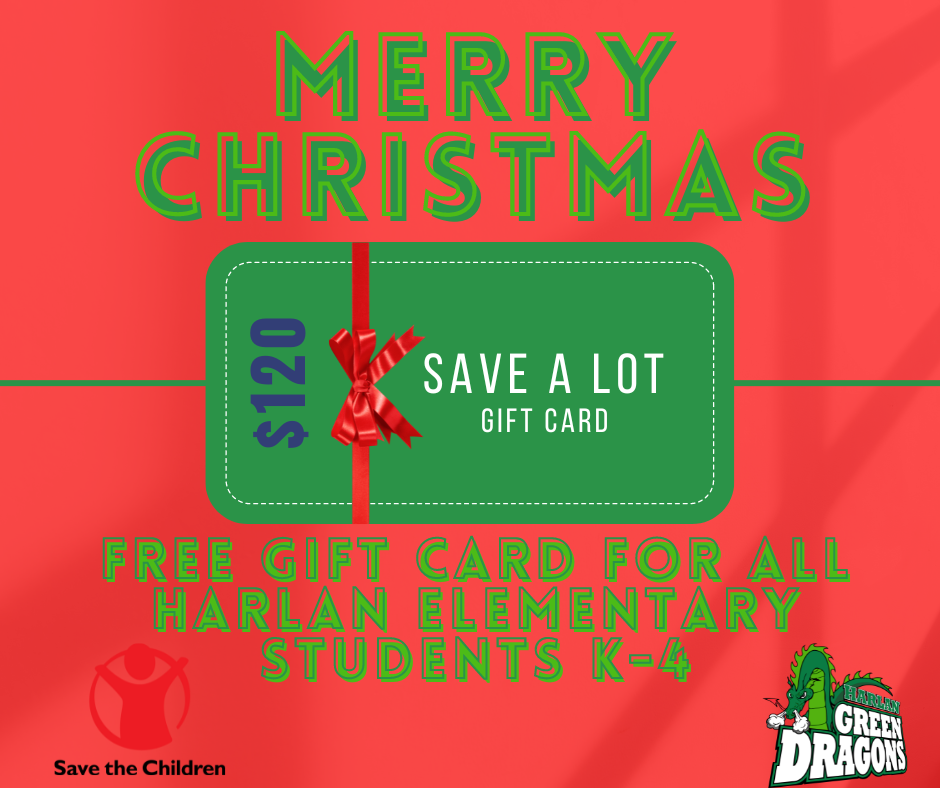 Derrick Akal Sworn In As School Resource Officer Harlan Ind. took action on Thursday to equip the campus with a full-time School Resource Officer. Derrick Akal brings more than two decades of law enforcement service and 10 years of military experience to the district.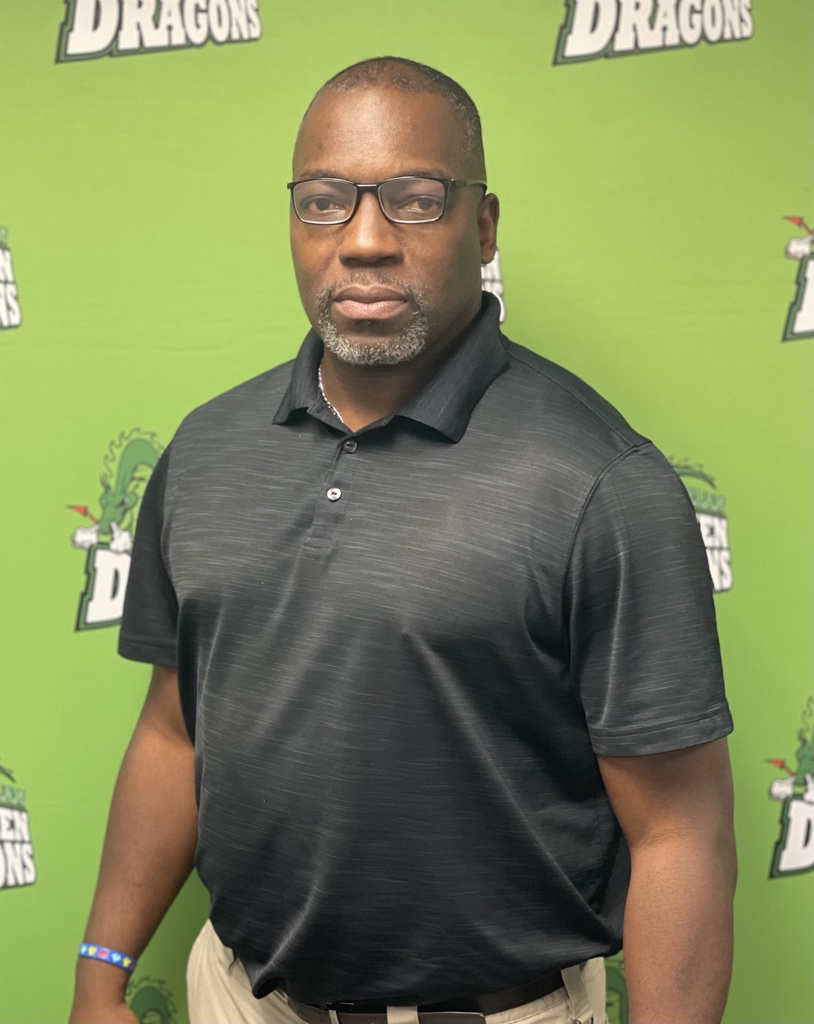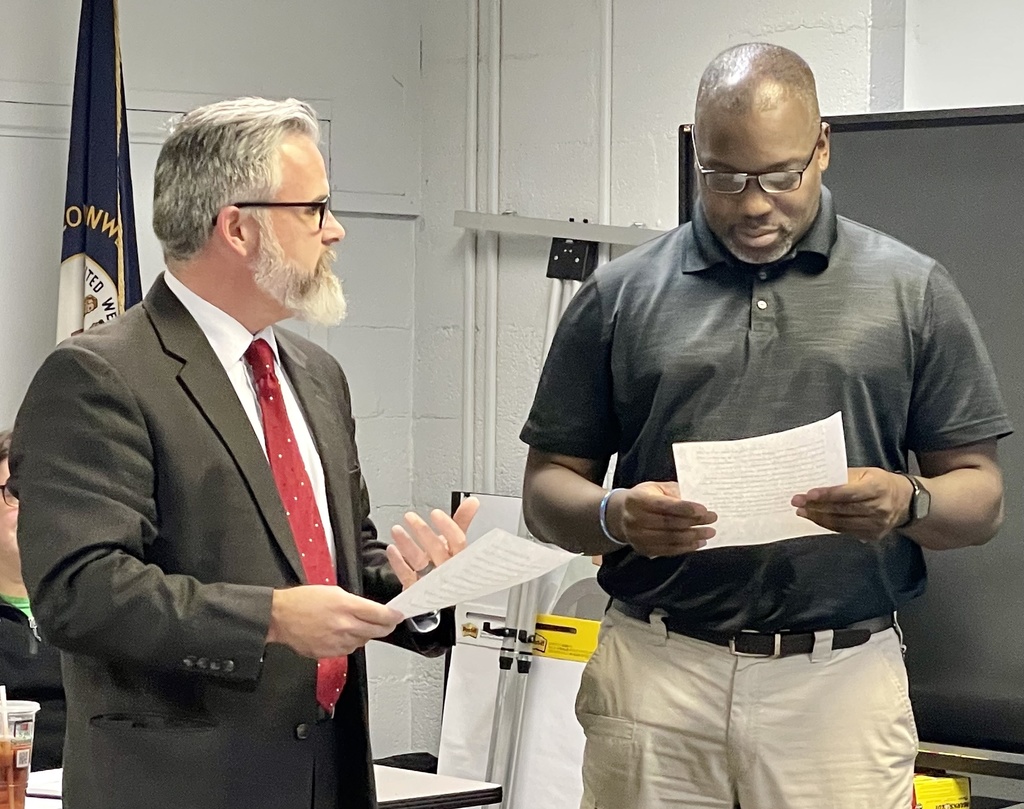 Harlan Elementary is excited to announce that through our partnership with Save the Children we will be giving $120 gift cards to every student enrolled at HES (K-4). Please see the letter below that outlines. Contact your school with questions.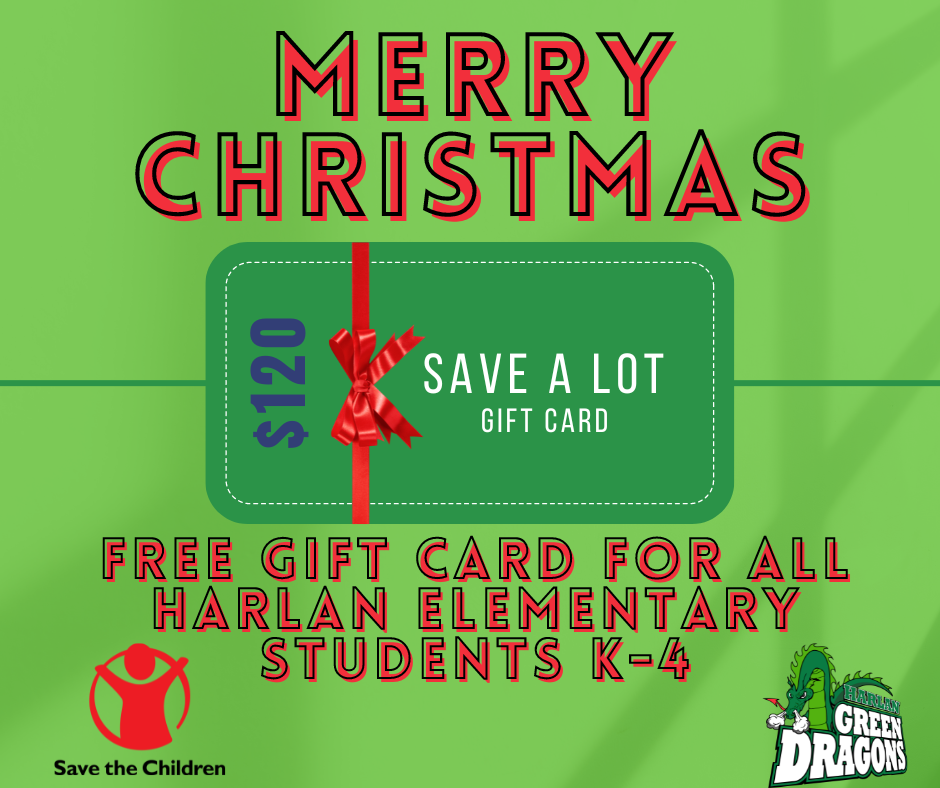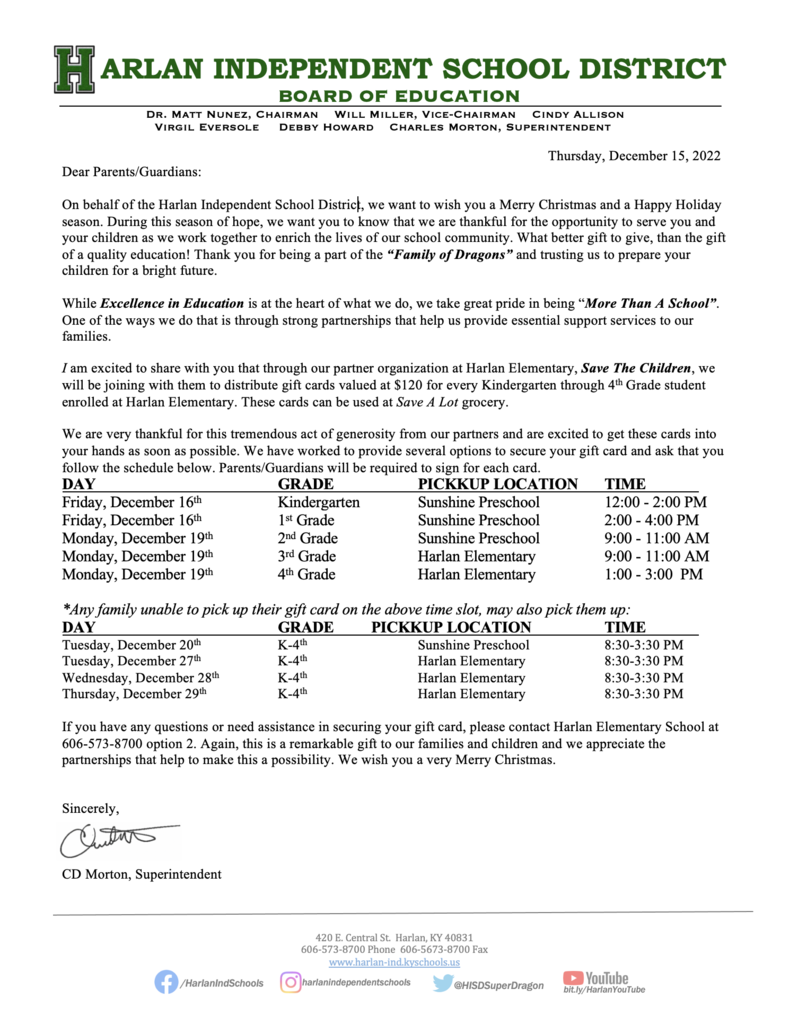 Want to watch tonight's matchup between HHS and the Pikeville Panthers? Download the Mountain Top TV App, create a free account, and enjoy the action. GO BIG GREEN!🐉🏀💚 #FamilyofDragons #MoreThanASchool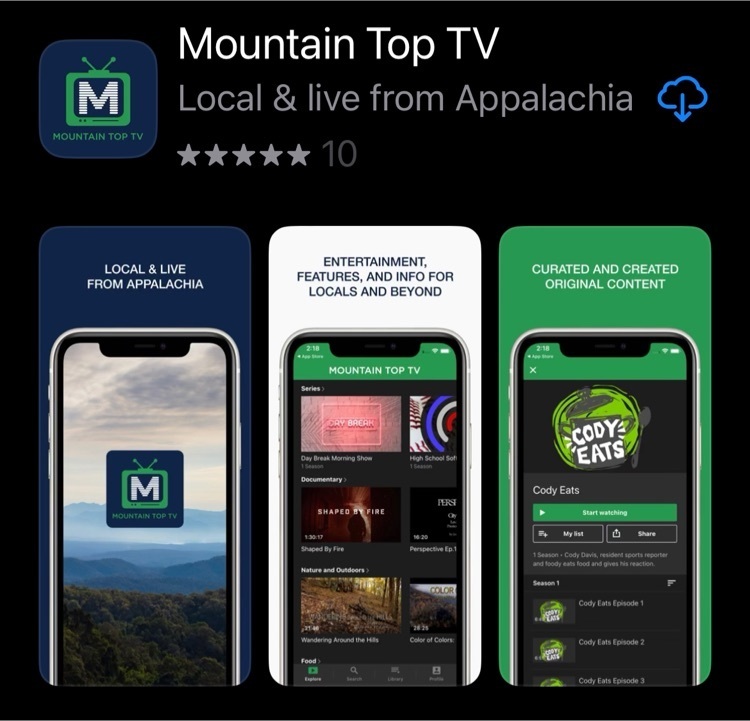 Of all the things to be thankful for on this Thanksgiving day, we are most thankful for our #FamilyofDragons. Wishing all of you a wonderful Thanksgiving day from the Harlan Independent School District.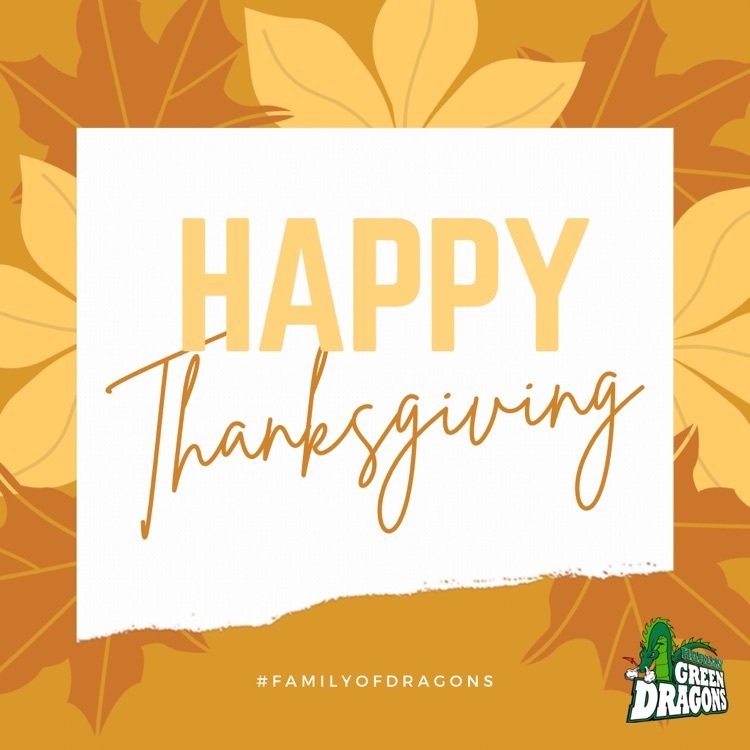 🏀 🐉 Just a reminder: This Saturday at 7pm Harlan High School will be hosting Big Green Madness! Come meet your 22-23 Lady Dragon and Green Dragon basketball teams and cheerleaders. All cheer and dance teams will be performing. It's going to be a night of fun! 🐉 #familyofdragons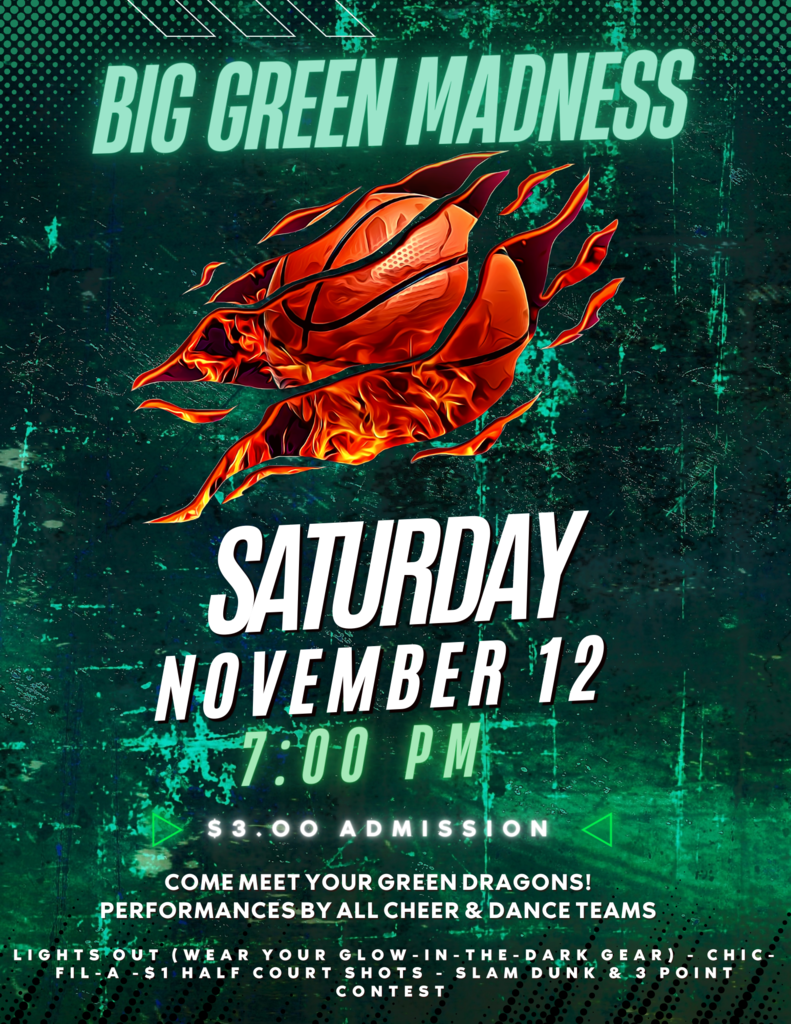 Harlan Independent School District will have a Veterans Day Celebration on Friday, November 11th at 9:30 AM in the High School gymnasium. We would like to invite any Veteran in your family to attend as we recognize them during our program. 🐉 🇺🇸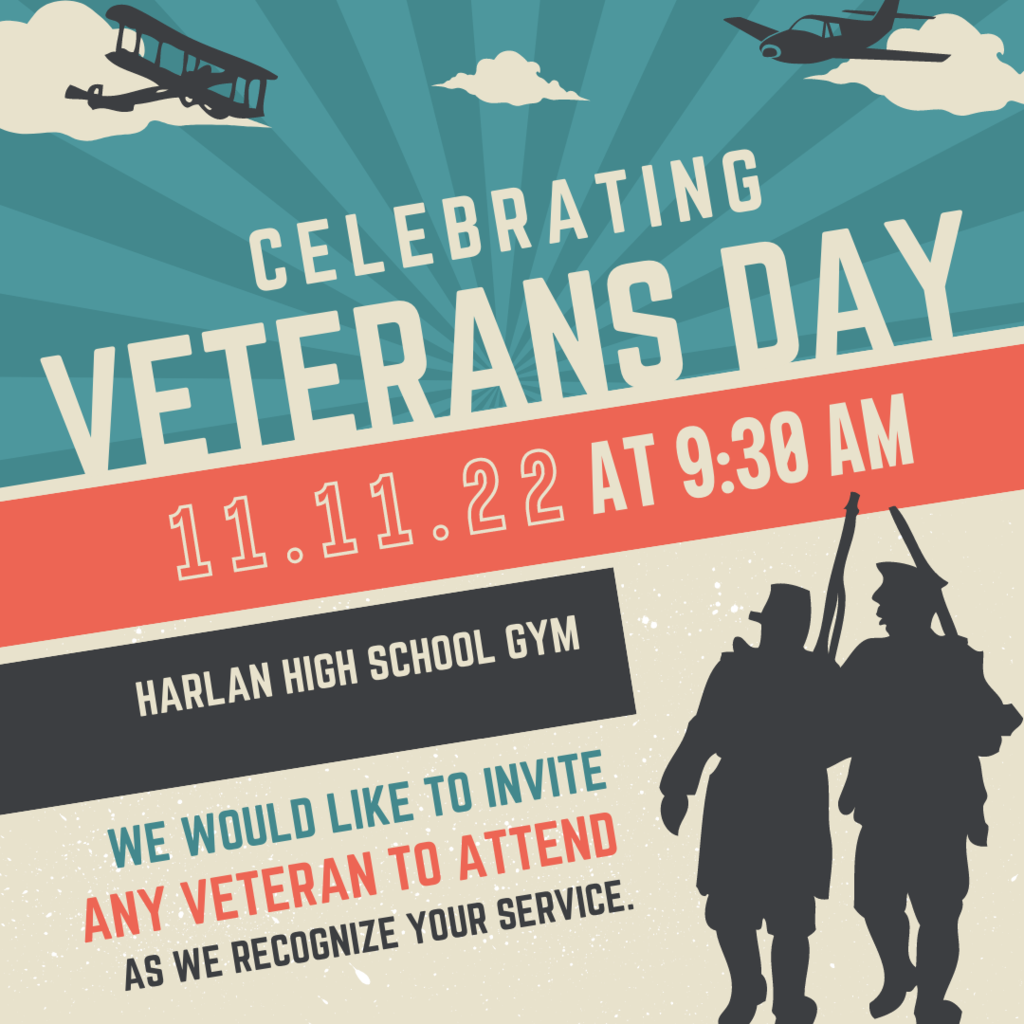 🏀 Mark your calendars! Saturday, November 12th, the Green Dragons and Lady Green Dragon basketball teams will be hosting Big Green Madness. The fun starts at 7:00 pm. Make plans to attend and meet your Green Dragon basketball teams for the 22-23 season. 🐉 #familyofdragons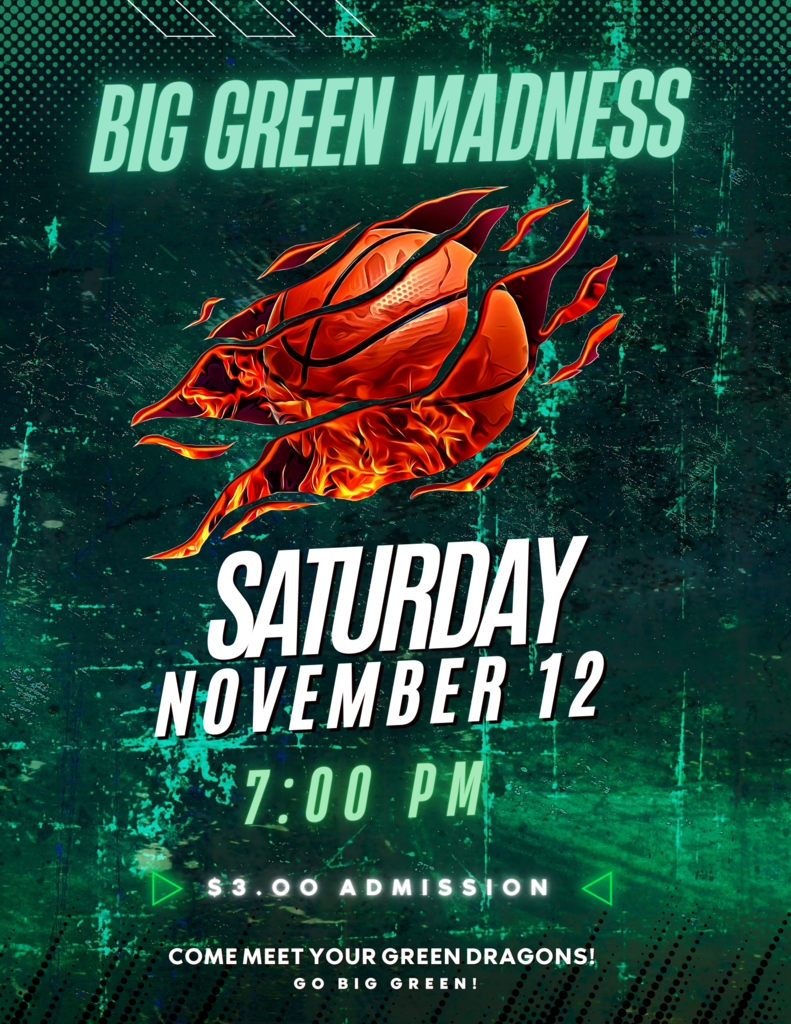 Get ready, Dragon Fans! 🐉 It's PLAYOFF week! 🏈 In honoring Harlan High School football tradition, Friday at 5:00 PM the Harlan Green Dragon football team, along with the HHS cheerleaders and Marching Band, will be marching from the front of Harlan High School, down Central Street to the Joe Gilley Athletic Complex. We invite all students, family, friends, community members, and alumni to line the Dragon Walk with signs to cheer on our team as they walk to the field to take on Sayre! Wear your green, bring your signs, and we will see you at the Dragon Walk! Go Big Green! 🐉 #familyofdragons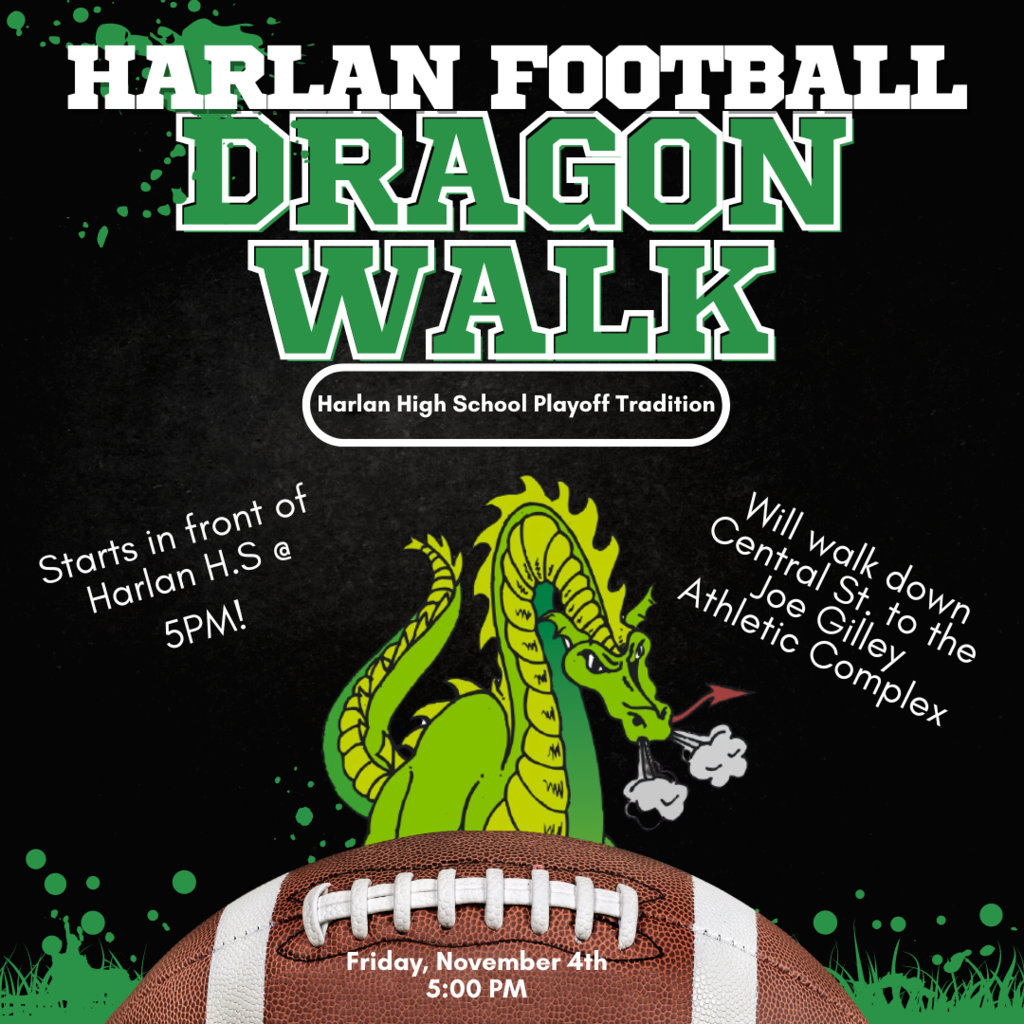 Coach Hamm-Rowe and the 🏀 Harlan Lady Dragon basketball team 🐉 is selling Big Green Madness t-shirts this week, November 1st through November 4th. Shirts are $15 and can be ordered by contacting Coach Hamm-Rowe at
tiffany.hamm@harlanind.kyschools.us
or by placing your order with your school secretary. Money can be paid up front or upon delivery. Go Big Green! 🐉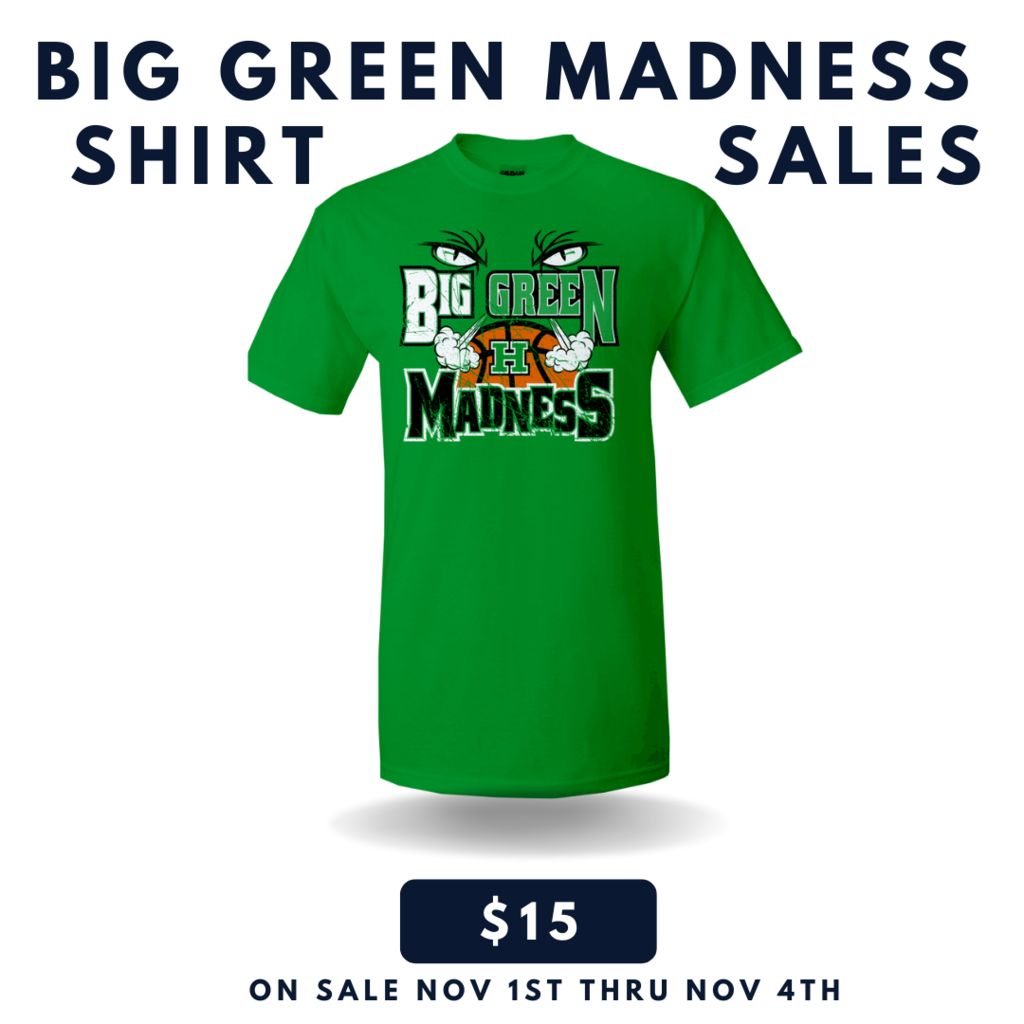 Hey Trick-or-Treaters! Don't forget as you trick-or-treat in Harlan, stop by the front entrance to Harlan High School and grab some candy from the HHS FBLA! 🎃