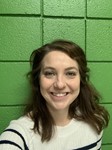 Contact Info:
Mrs. Annie North
3rd-4th Grade Resource Teacher
Harlan Elementary School
(606) 573-8715 ext. 2209
annie.north@harlanind.kyschools.us
My name is Annie North, and I am a 3rd and 4th grade Resource Teacher. I am in my 6th year of teaching and love my job! I am married to Dustin, and we have a 1 year-son, Benjamin.
Daily Schedule
7:55-9:10 3rd Grade Literacy
9:10-10:20 3rd Grade Math
10:20-10:40 Cover Aide Lunch
10:40-11:00 Lunch
11:00-11:50 Planning
11:50-1:10 4th Grade Math
1:10-2:20 4th Grade Literacy
2:50 Dismissal
For more information about my Google Classroom, please contact me at school or via email.