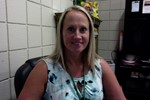 Contact Info:
email: tara.posey@harlanind.kyschools.us
Phone: 606-573-8700 Option 2
In January of 2020 I took over as Interim Principal for Harlan Elementary School and in June 2020, became the Principal of Harlan Elementary School. I began my career in the Harlan Independent School District in August of 2004 as a Special Education Teacher in the middle school. I held many roles and responsibilities while in the middle/high school, such as Athletic Director, Health & Physical Education Teacher, Head Coach for Middle School Girls Basketball team, Head Coach of high school boys & girls Track & Field team, Head Volleyball Coach, and Assistant Coach to the high school girls' basketball team.
During my time Coaching I helped our high school Volleyball team collect four District Championships and three Class "A" 13th Region Championships. While investing my talents in the areas of Track & Field I help guide our boys' team to Runner-up in Region 8 competition. On the girls side I had three state champions on my team in the events of High Jump, Shot and Discus. As an assistant Coach I was a part of several Class "A" Championships, including a runner-up finish at the State level, and two 13th Regional Titles.
I graduated from Evarts High School in 1997, where I hold school records for finishing 2nd in All-time scoring in basketball, 1st in assists and the fastest time in school history running 300m low hurdles. I continued my basketball career at Union College and graduated in 2001 with a B.S in Health & Physical Education. I hold two master's Degrees, one in Special Education and the other in School Counseling. I also have Rank I in Administration with which I am certified to be a Principal and Director of Special Education.
I am in my 21st year of my education career and have been in the Harlan Independent School District for 19 of those years.
I enjoy kayaking, riding horses, taking care of my miniature schnauzers and traveling. Ensuring the best possible education for our students at Harlan Independent School District is my passion!