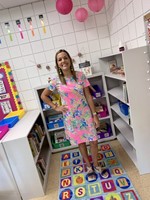 Contact Info:
Ms. Tasha Fee
First Grade Teacher
Harlan Elementary
(606) 573-8715 ext. 2109
tasha.fee@harlanind.kyschools.us
Daily Schedule
7:50-8:20 Morning Meeting/Calendar
8:20-10:40 Literacy
10:45-11:10 Lunch
11:10-11:50 Science/Social Studies
11:50-12:20 Break
12:25-1:15 Planning/Rotation
1:15-2:30 Math
2:50 Dismissal
The best time to reach me is during my planning time or after school.
For more information about my Google Classroom, please contact me at school or via email.