(Harlan, Ky) Harlan Elementary School wrapped up the 2023 Kentucky Governor's Cup Academic Team Championships by winning their sixth consecutive regional trophy recently at Wallins Elementary.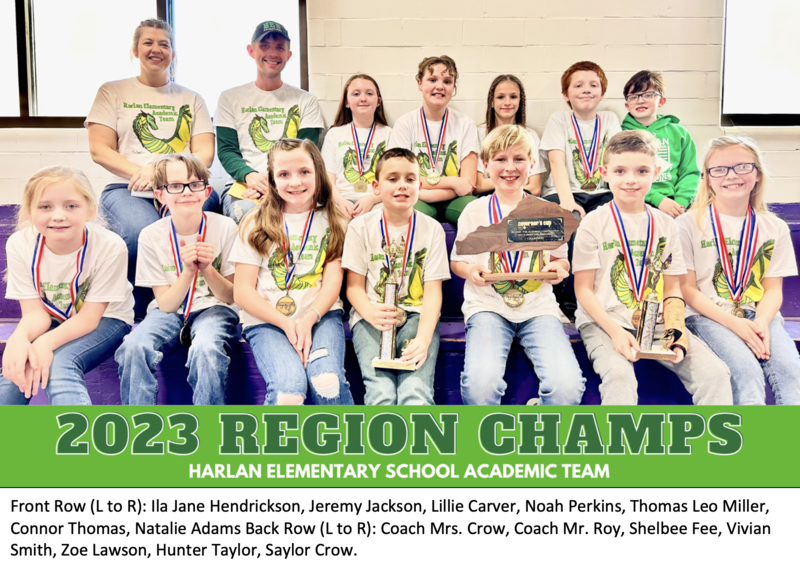 The Green Dragons have been remarkable over the last six years winning both District and Region academic team titles dating back to 2017. The success has helped propel Harlan to new levels of achievement across the district. Superintendent C.D. Morton noted, "We have established what I would call the three C's. A strong culture that grows success, exceptional coaches, and committed students. When you have those core ingredients, it is a recipe for success. Our students know we expect their very best and they deliver. Our coaches, teachers, and parents are committed to supporting all students and it creates a culture that continues to grow.
While Morton praised the accomplishments of the 2023 Academic Team, he commented that it is reflective of the entire school. "The student success we see at these competitions doesn't happen overnight. When we use the phrase "Excellence in Education" this is what that looks like, teachers and staff members all across the schools are dedicated to supporting students to succeed where it matters the most, the classroom."
Students representing fifteen (15) elementary schools from Bell County, Harlan County, Harlan Ind, Pineville Ind, and Middlesboro Independent participated in Region 26 competition.
Harlan Elementary School Academic Team recorded a total 47 points to take top honors. Runner-up was Yellow Creek with 14.5 and Page School Center was third with 13.5.
The Green Dragons are coached by Mr. Brent Roy, Mrs. LeAnne Chasteen, and Mrs. Sierra Crow.
Overall Place: Points
1st Harlan Elementary 47
2nd Yellow Creek 14.5
3rd Page School Center 13.5
4th Cawood Elementary 12
5th Evarts Elementary 9
6th Rosspoint Elementary 8
7th Middlesboro Elementary 5
8th Wallins Elementary 4
9th Bell Central 4
10th Cumberland Elementary 3.5
11th Black Mtn. Elementary 2.5
12th Pineville Elementary 1
Green Hills -
James A. Cawood -
Right Fork Elementary -
Math:
1st Thomas Leo Miller (Harlan Elementary)
2nd Jeremy Jackson (Harlan Elementary)
3rd Garrett Bolin (Evarts Elementary)
4th Carah Rose (Rosspoint Elementary)
5th Kharis Johnson (Bell Central)
Science:
1st Mason Garrett (Rosspoint Elementary)
2nd Hunter Taylor (Harlan Elementary)
3rd Elijah Epperson (Cawood Elementary)
4th tie Israel Baker (Yellow Creek Elementary)
4 th tie Noah Harris (Middlesboro Elementary)
4th tie Grant Bolin (Evarts Elementary)
Social Studies:
1st Mason Freeman (Evarts Elementary)
2nd Jacob Brock (Wallins Elementary)
3rd tie Connor Goodin (Page School)
3rd tie Eldridge Kelly (Black Mtn. Elementary)
5th Mason Garrett (Rosspoint Elementary)
Language Arts:
1st Zoe Lawson (Harlan Elementary)
2nd Natalie Adams (Harlan Elementary)
3rd Zara Stewart (Page Center)
4th tie Rayleigh Scott (Yellow Creek Elementary)
4th tie Shelbee Fee (Harlan Elementary)
Arts and Humanities:
1st Natalie Adams (Harlan Elementary)
2nd Reese Rogers (Middlesboro Elementary)
3rd Zara Stewart (Page Center)
4th tie Collin Sherman (Cumberland Elementary)
4th tie Vivian Smith (Harlan Elementary)
Composition:
1st Zina Okwundu (Yellow Creek)
2nd Alivia Eversole (Harlan Elementary)
3rd Rayleigh Scott (Yellow Creek)
4th Kharmen Dixon (Cumberland Elementary)
5th Caroline Patterson (Cawood Elementary)
Quick Recall:
1st Harlan Elementary
2nd Page School
3rd Yellow Creek
4th Pineville Elementary
Future Problem Solving:
1st Cawood Elementary
2nd Harlan Elementary 3rd Bell Central