Harlan Middle/High recognized as 1 of 15 Family Friendly Certified in Kentucky
Harlan, KY – Harlan Middle/High has been recognized by the Kentucky Collaborative for Families and Schools and the Kentucky Department of Education as Family Friendly certified.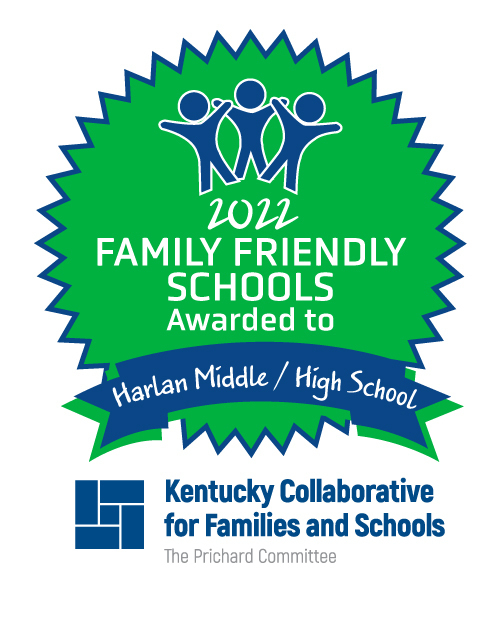 "Schools achieving Family Friendly status have demonstrated a commitment to embracing families as equal partners in student education. Harlan Middle/High is a bright spot in the Commonwealth," said Brigitte Bloom, president and CEO of the Prichard Committee for Academic Excellence. "It has built the capacity of school leadership to understand and implement more effective family engagement best practices."
Principal Britt Lawson expressed excitement that Harlan Middle/High was honored with this certificate.
"We are so excited to be named as one of the first fifteen Family Friendly Certified schools! We have an amazing school community and staff that work together to do what is best for students and I hope our families always feel welcome, heard and supported at Harlan Middle/High, he said.
Harlan Middle/High has been working to improve how the school partners effectively with families and community partners. Through the certification process, Harlan Middle/High created a diverse team that included families, classroom teachers and the principal of the school. The team used a self-assessment tool to evaluate what the school was doing well and where there was room to improve relationships with families. Next, the team implemented new practices to improve its family friendly score.
Family Friendly Certificates are awarded by a working group of families, educators and community organizations within the Kentucky Collaborative for Families and Schools, which is focused on increasing open communication, learning opportunities, and shared decision-making power across the Kentucky education system. The Kentucky Department of Education tracks the number of certified Family Friendly schools as a measurement for improving family and community engagement in Kentucky schools.
Superintendent C.D. Morton noted, "The certification process to achieve this designation is part of our continued efforts to engage and embrace our families in the strongest post COVID recovery efforts as possible. The Harlan Independent Schools are committed to leading our students and families in this effort. Working together, we are already seeing fantastic results for our students. It is an exciting time at Harlan Middle/High as the faculty and staff continue to grow our strong student-first culture that results in high student achievement. This is just another example of our schools leading the way at the highest level in the areas that matter the most. I am very proud that all of our schools are prioritizing this effort to partner with our families for their education success."
###